Dundee: Scot Gardiner ire at St Mirren SPL vote stance
Last updated on .From the section Football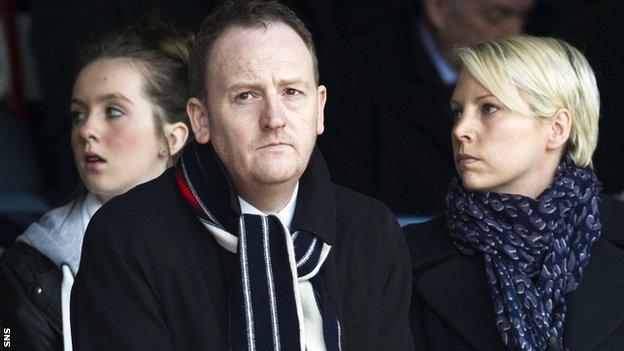 Dundee chief executive Scot Gardiner has accused St Mirren of acting self-interestedly in stating they will vote against league reconstruction.
"Everyone has to compromise to come up with a system that keeps 42 clubs happy," Gardiner told BBC Scotland.
"I'm afraid it's utopian and doesn't relate to real life to think that some clubs can cherry-pick what they want."
He also told BBC Scotland's Sportsound programme, that voting against the proposal would mean retaining the present situation.
"A vote against isn't just a vote against 12-12, it's a vote to keep the status quo, and the boot will be kept on the neck of Scottish football.
"Because there's no more compromises; everyone's given in something, so, for some clubs to say 'we'd like also that and we'd like also that', that's a red line for us.
"I think it's self-interest."
Gardiner also insisted that he was prepared to support keeping the 11-1 voting system in the SPL - one of Gilmour's main objections to the reform plan.
"It's easy to make statements where you say 'we shouldn't do this and we shouldn't do this'," he said.
"There's been an enormous amount of compromise from clubs all over the country.
"I put my hand up against in January, but there are very good arguments for keeping it when you get into the detail.
"The 11-1 is there for protected matters, and that means protecting everyone, not jsut one or two clubs."
And the Dundee chief also maintained that change had to happen if Scottish football was to survive.
"We have a sick patient here," he said.
"Crowds are going down, sponsorship is going down, TV audiences are disastrous and the First Division is effectively a basket case.
"Our game is in dire need of change.
However, Gardner did admit that the football bodies had not presented the new proposal to the public well.
"I believe, if things are explained properly about where we're at, then fans can realise this is the situation we're in," he said.
"PR-wise, could things be handled better? Absolutely.