Michael Carrick: Man Utd's key player in reclaiming title?
By Alistair Magowan
BBC Sport
Last updated on .From the section Football443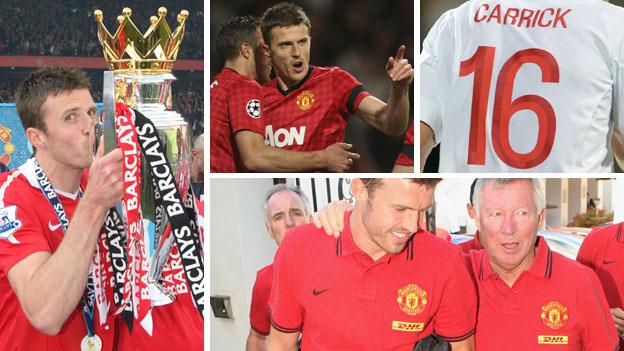 "It's hard to believe it's not Scholes, it's Carrick, you kno-ow."
It has taken seven seasons for a chant to emerge about Michael Carrick; seven seasons in which the midfielder's talent has failed to convince all corners of Old Trafford.
Now, though, the Manchester United fans seem to have finally embraced the Geordie and he has gained the trust of his manager Sir Alex Ferguson.
No player has made more Premier League starts for Manchester United than the 31-year-old this season as his team have gone on to win a record 20th league title.
His performances have echoed those of Ferguson's side as a whole: quietly efficient, a model of consistency, yet with an ability to strike like a cobra at key moments.
Anyone who witnessed the angle and weight of his beautifully-lofted pass for Javier Hernandez's opener in the FA Cup sixth round at Old Trafford knows Carrick is at the top of his game.
"Michael is the most under-rated and under-valued player in the league," said his team-mate Rio Ferdinand. "No-one else could play a pass like he did for Javier's goal. It has to be the ball of the season. But I am sure no-one will talk about it.
"All the talk will be about other players who maybe do a little bit more explosive things than Michael does."
Perceptions might be changing this season, and Carrick has been shortlisted for player of the season by his fellow professionals for the first time. But his "under-the-radar" approach seems to have led to him being viewed as something of an enigma in the past and he lags far behind fellow midfielders Steven Gerrard and Frank Lampard when it comes to England appearances, having chalked up just 27 caps since making his international debut under Sven-Goran Eriksson 12 years ago.
Former England and Manchester United captain Bryan Robson believes comparisons with former all-action midfielders at Old Trafford, such as Scholes, Roy Keane and Paul Ince, have also led to the player not receiving the recognition he deserves.
Robson himself was probably the very definition of a box-to-box midfielder, scoring 99 goals in 461 appearances during his 13-year career at United.
"Michael has always had a few critics at Manchester United, not within the club, but from fans," Robson told BBC Sport. "I think that's because he is not the type of dynamic player that fans have been used to in midfield, like Paul Ince or Roy Keane.
"He isn't a crunching tackler, he reads the game and intercepts the ball really well. And because he likes to link the play all the time, he maybe doesn't get as many goals as those lads as well."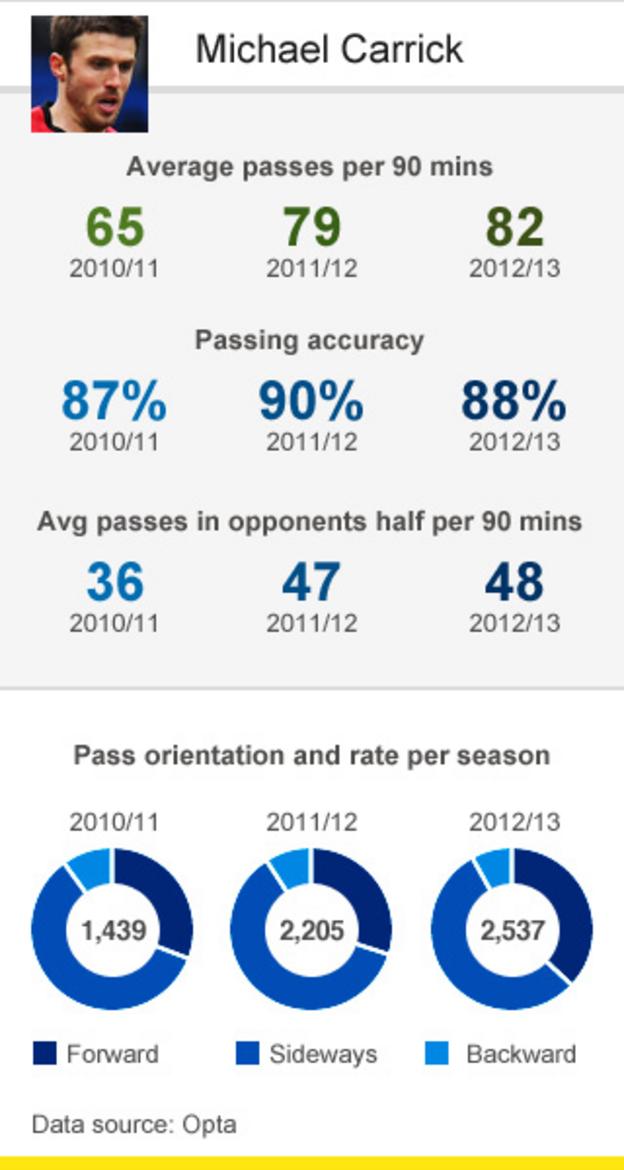 Carrick, who began his football education at the famous Wallsend Boys Club, has always been known as a great passer of the ball.
West Ham academy coach Tony Carr worked with him as a youngster, and said: "He's very aware of the next pass and rarely gives the ball away, plus he is two footed and a great reader of the game. He has played at centre-back so that shows his understanding."
In the past, 'safe' was a word that cropped up when describing Carrick's game. This term however, statistics show there has been an increase in the number of forward passes he has made while, importantly, his accuracy has not faltered.
Over the last three Premier League seasons, Carrick has completed about 90% of his passes. Yet while in the last two seasons he passed forwards 30% of the time, this term the figure has jumped to 37%.
Carrick has remained as one of the busiest midfielders in the league, too. Only Arsenal's Mikel Arteta and Aaron Ramsey have made more passes per 90 minutes this season.
Robson added: "Instead of keeping it a bit too simple, he's looked for the killer pass or a forward pass into Wayne Rooney or Robin van Persie this season and I think it's made a difference to his game.
"There's been an increase in those passes but without him giving the ball away. Michael has mixed his game up really well and that's why everybody has noticed that he is playing so well."
With his regard for possession and measured defensive qualities, some observers have classed him as a more of a European-style midfielder, in the mould of Real Madrid's Xabi Alonso or even Barcelona's Sergio Busquets; someone who can be the catalyst for more potent players to strike the right notes further forward.
Robson agrees that if Carrick played for a European club, he might have been more appreciated by fans "because they are used to the possession of the ball".
Former England manager Graham Taylor calls Carrick "a players' player", ex-Liverpool midfielder Alonso says he has "missed seeing a player like Carrick in the England midfield", while Carr says he is "very much suited to the international scene" and is "surprised Carrick hasn't played more" for his country.
So why hasn't he been rated more highly by England coaches? Fabio Capello took Carrick to the 2010 World Cup, but the player failed to make it onto the pitch in South Africa.
The midfielder was then left out of England's Euro 2012 squad and told manager Roy Hodgson he did not want to be considered for the standby list.
Since then he has slowly worked his way back into first-team consideration, being recalled for the friendly against Italy in August 2012 and then playing in England's qualifiers against Moldova, Poland, San Marino and Montenegro. Some would argue he has deserved more than his 27 England appearances though, which puts him seven caps short of James Milner.
"When you go into that England situation, people expect every player to be special and every player to have an ability that is so eye-catching that he has had a good game," Taylor told BBC Sport.
"Yet the reality, whether it is international or club football, is that you still want that continuity player in your side who is available to help you out and get the pass going again. Sometimes it's hard to be recognised at club level, but it's 10 times harder at international level."
The recent World Cup qualifier against Montenegro provided ammunition for Carrick's critics, who argued he had failed to take the game by the scruff of the neck.
In the first half, he was imperious, dictating play as England established an early lead. But once substitute Dejan Damjanovic was introduced to Montenegro's midfield in the second half to play behind the strikers, Carrick was put under pressure and England subsequently gave the ball away cheaply.
Then there was the recent Manchester derby at Old Trafford, when Manchester City midfielders Yaya Toure and Barry over-powered Carrick and Ryan Giggs in a 2-1 victory.
Critics might also point to the Champions League final in Rome in 2009, when Manchester United were overwhelmed by Barcelona's "passing carousel", as Ferguson described it, or the same fixture at Wembley two years later, when Carrick and Giggs were bypassed too easily.
Taylor, who was in charge of England between 1990 and 1993, believes Carrick has sometimes been the fall-guy for the shortcomings in United's attacking formation.
Barcelona and Manchester City often deploy a third player in central midfield, giving the likes of Andres Iniesta or David Silva extra space to run in behind Carrick.
"There's an expectancy for Manchester United to play in an attacking fashion, not to sit back and not to have too many players in midfield," Taylor said. "They often play with wide players as well and sometimes that's not an easy thing to cope with if you are playing with two central midfielders, particularly in today's football."
Robson added: "For a central midfield player to dictate the pace of the game, you need good players around him so that he knows when to quicken up and when to slow it down, you can't just do that by yourself."
The good thing for Manchester United and England is that the best could be yet to come for Carrick, as has been seen with 33-year-old Andrea Pirlo for Juventus and Italy. As Carr said: "Michael is playing every game now and that's helped with his consistency and confidence and he is reaching his prime as a player."
It may have taken a long time, but as Carrick's value becomes more obvious, the biggest issue for Manchester United and England might now be who best to play alongside him.