Jersey Football Association: David Brookland to step down
By Tim Pryor
BBC Radio Jersey
Last updated on .From the section Football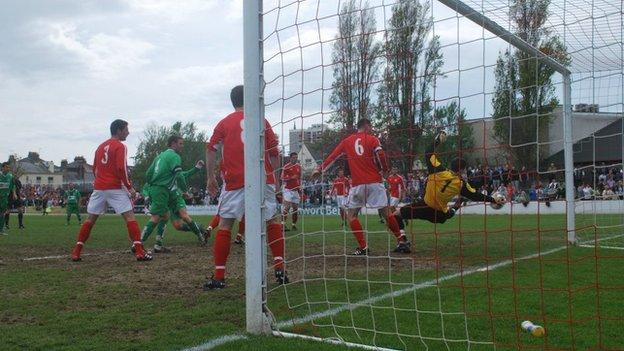 David Brookland is to step down as the chief executive of the Jersey Football Association.
The announcement comes just a year after he took on the job following
Brookland, who says the decision is because of other work commitments, will continue as the JFA treasurer.
"It was fine for the first six months but gradually my finance industry commitments have become busier," he told BBC Jersey.
"The requirements as CEO have also grown.
"I have spent a lot of personal time trying to balance everything but the last four months have been very difficult."
The Jersey FA is already advertising for a new chief executive on its website, saying applicants need to be charismatic and energetic.
The Island Games, including football, will be staged in Jersey in 2015 and the new man or woman will also have to oversee plans which could see
"I have had a brilliant 12 to 13 months and if I did not have the other commitments I would happily carry on," added Brookland.
"I think my experience will be very helpful to whoever comes in - the day I started was the day after Paul Creeden left, so not ideal.
"I also think we are really lucky with the quality of people involved in Jersey football and the next two years leading up to the Island Games will be very exciting.
"The CEO needs to have the time to carry out the role properly and that is something I was finding harder to do."