Rangers: Ally McCoist seeks clarity from Charles Green over coaches

By Chick Young
Football Correspondent, BBC Scotland
Last updated on .From the section Football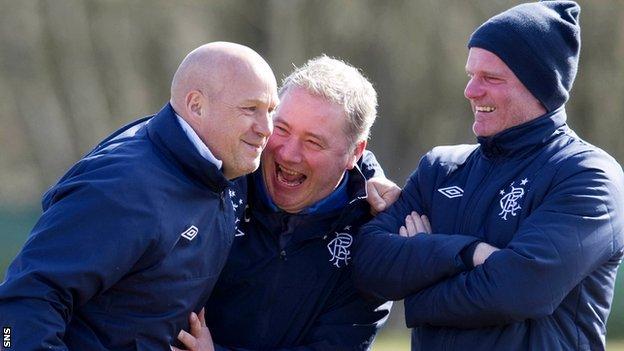 Rangers manager Ally McCoist will seek clarification about the future of his coaches from chief executive Charles Green, BBC Scotland understands.
It follows a newspaper story that Green wants to remove assistant Kenny McDowall and coach Ian Durrant.
Head scout Neil Murray and physiotherapist Pip Yeates have already departed Ibrox.
It is understood that McCoist will back his coaches but will not quit Ibrox whatever the outcome of the meeting.
But it is believed that it is an indication of the widening gulf between the manager and chief executive.
At a media conference ahead of Wednesday's Ibrox friendly against Northern Irish champions Linfield, McCoist had played down any suggestions of a strained relationship.
He also defended the record of his coaching staff, before and after the departure of previous manager Walter Smith and the period under the ownership of Craig Whyte that eventually led to administration and Rangers starting again in Division Three.
"I can confirm to you right now that I have not entered into any discussions at all with Charles regarding Kenny or Ian," said McCoist.
"On that subject, all I would say is that, in the last five years, Kenny, Ian and myself, with Walter, have won three SPL titles, some cups, got to a European final, had a season under Craig Whyte and then we won a title this year.
"That's all I go to say on that matter, I'm not going to take it any further."
Asked about the extent of his involvement in decisions at Ibrox, McCoist replied: "I am involved. I obviously don't have the final say, but I like to think my input, a) is valuable; and b) is taken on board. That's an important message to get out."
McCoist previously contradicted Green's assertion that, despite a win over over Queen's Park that clinched the Division Three title on Sunday, it was Rangers' worst team ever.
However, the manager insisted that the relationship between himself and the former Sheffield United chief executive is "absolutely fine".
"We spoke on the phone this morning, we had a meeting on Saturday before the game against Queen's Park for well over an hour," said McCoist.
"We will meet again today, if not today, certainly tomorrow before the Linfield game.
"We both agree. We must take the club forward. That's what the fans want to hear, that's what will happen.
"I don't have any doubt about that because it's not about Ally McCoist, it's not about Charles Green, it's not about anybody else, it's about the club and, for 140 years, that is the most important thing."