August date for Northern Ireland qualifier with Russia
Last updated on .From the section Football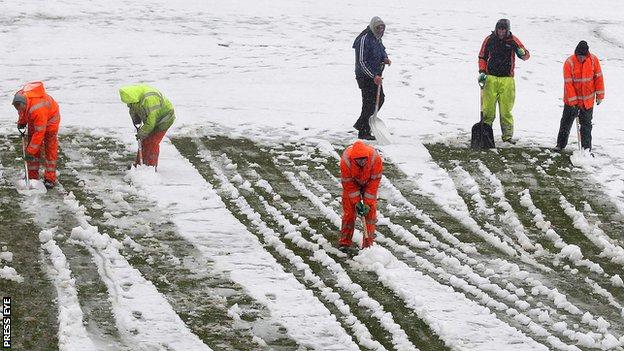 Northern Ireland's World Cup qualifier against Russia at Windsor Park will be played on 14 August, it was confirmed on Friday.
There had been speculation that the game would be re-scheduled for 11 June.
However, the Irish FA was unhappy with the June date because the British domestic season will have finished.
The Irish FA's lobbying to Fifa appears to have been successful despite Russia's preference for the June date.
Northern Ireland manager Michael O'Neill had expressed a preference to play the game at the end of May.
Russia face Portugal on 7 June and the Group F leaders wanted to fit in the trip to Belfast immediately after that game.
It was also believed that there may have been policing concerns over the potential June date as the PSNI will be preparing for the G8 summit, which is being held in Fermanagh the following week.
Northern Ireland have just three points from their opening five fixtures and have yet to win a match in the group.
Michael O'Neill's side lost 2-0 to Israel in Belfast on 26 March.