Champions League: Dortmund boss Klopp stunned by late win
Last updated on .From the section Football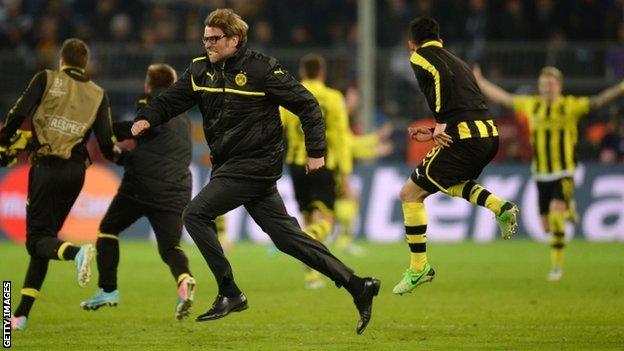 Borussia Dortmund Jurgen Klopp joked that he "needed to see a doctor" after his team's stunning victory over Malaga in the Champions League.
Dortmund scored two injury-time goals in Germany to snatch a 3-2 victory and a place in the semi-finals.
"I cannot describe what is happening inside me," said Klopp. "I think I need to see a doctor.
"Over the two games we are deserved winners. We are in the semi-final, it's one of the best nights ever."
Dortmund, who won the competition in 1997, appeared to be heading out when Eliseu scored on 82 minutes - putting Malaga 2-1 up and leaving the German side needing to score twice after a goalless first leg.
However, Marco Reus and Felipe Santana scored in injury time, sparking huge celebrations among the home team and their supporters.
"Everyone on the bench was about to have a heart attack after we scored the winner," added Klopp.
"The feeling was similar to last year when we won the German championship.
"Me and my assistant were talking and saying to each other 'who would have thought a couple of years ago we would have been in the semi-finals of a Champions League?'.
"The great games live in the memories because they are close. I'll never forget this game. Now it's in my memory. And that's good."
Neven Subotic admitted that his team's winning goal may have come from an offside position, but said that his team had never given up hope.
"I still can't really believe it," said the Dortmund defender.
"It was the craziest moment in my football history and for everyone in the stadium. It was a special match and the way we ended it is like a great book or a Hollywood movie.
"We didn't give up hope, we thought we could get one and then try and get lucky and the luck was with us
"I didn't feel anything but happiness, [the winner] seems offside but this is football."
Dortmund remain the only unbeaten team in the competition and join Real Madrid in the last four after the Spanish side defeated Galatasaray 5-3 on aggregate.
They will be joined by the winners of the ties between Barcelona and Paris St-Germain and Juventus and Bayern Munich, the second legs of which take place on Wednesday.