Off The Bawl - 6 April
By Tam Cowan
Off the Ball presenter
Last updated on .From the section Football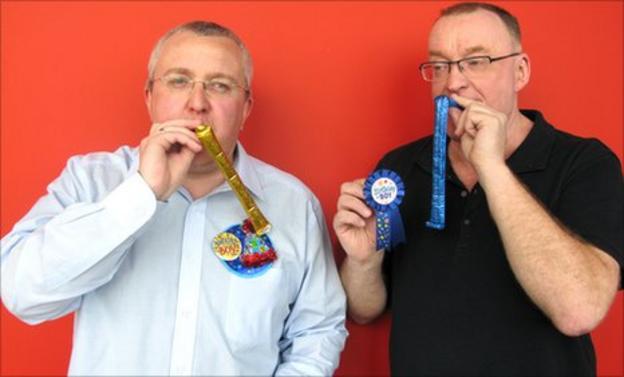 Greeeeeetings!!! Still don't think Off The Ball is the most petty and ill-informed show on the radio? Then how do you explain Tam Cowan telling the nation that Scotland's last ever goal at the World Cup Finals was Stuart McCall's winner for Scotland against Sweden in 1990?
Let's just blame his claret & amber tinted specs...
As umpteen listeners were quick to point out, Scotland's last goal at the World Cup was actually scored by Craig Burley against Norway at France '98.
In fairness, Tam maybe just had an off day on Saturday. That might explain why he got caught out by one email from Ecclefechan that was apparently sent in by - wait for it - Russell Sprout. Oh dear...
At this rate, Tam probably also believed the email from Tommy in Bonnybridge who said: "I'm quite sure that, if you do your homework, you'll find the real money man behind Rangers is actually David Icke."
Nothing would surprise us, Tommy...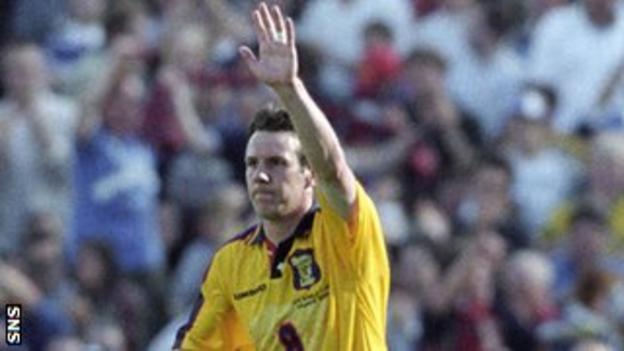 Anyway, in a packed show (© Ronnie Corbett) we were joined by Hampden Museum curator Richard McBrearty and two Partick Thistle fans called Peter and Anders who'd come all the way from Sweden to support their beloved Jags in the Ramsden's Cup Final (nae luck, lads).
Apart from looking for some new exhibits for the museum from season 2012/13 (eg. Leigh Griffiths' shopping bag from Tesco, Craig Brown's trendy bunnet and Ally McCoist's unicycle), we also suggested some classic jokes that deserved a place at Hampden.
And, as a tribute to North Korean despot Kim Jong Un (the wee man never misses the show), our Team of the Week was The Nuclear War XI.
Here's another selection of the most petty and ill-informed texts and emails on radio...
NEW EXHIBITS FOR HAMPDEN MUSEUM...
Tartan Army member Peter Hillin said: "What about my Lonely Planet Guide To Brazil...?"
Bull Wee Jim said: "An exhibit from this season could be Fran Sandaza's mobile phone."
Martin in Kilmarnock said: "Could you please consider putting Craig Burley into the museum so we don't have to listen to his awful punditry?"
Stevie in Glasgow said: "What about the match ball from the night Celtic beat Barcelona at Parkhead?"
(Sure, Stevie, but we'd have to get it off Messi first...)
... AND WHAT ABOUT A FEW JOKES?
The trick here is to pay tribute to a gag synonymous with a certain era in Scottish football. For example...
"Aw naw! Annoni's oan an' aw noo!"
(A line attributed to a Celtic fan during the bleak Lou Macari era when Italian dud Enrico Annoni came on as a substitute)
Why did Alan Rough fall out with his wife last night?
Because she gave him Krankl-cut chips for his dinner.
(A joke on the back of a mid-70s Scotland game against Austria when big Roughy was beaten by a chip at goal from Hans Krankl)
Chris McIvor in Blantyre said: "Here's one from 1982 when the movie was first launched. How can you tell ET is a Rangers/Celtic (delete as appropriate) fan? He looks like one."
Tommy from Giffnock said: "What did Jock Stein have for breakfast? Deans on toast!"
(That one stemmed from the night in the early 70s when Dixie Deans missed a crucial penalty in a European semi-final)
TEAM OF THE WEEK
The Nuclear XI (aka Nukecastle Utd)
Stadium: Enola Gayfield
1/ Bryan Gun
2/ John Bomber Brown
3/ Murdo MacMushroomcloud
4/ Radiation Wilkins
5/ Tommy Ring The President And Tell Him To Get Out Of The White House (c)
6/ Paul Ince-inerated
7/ Reggie Bunker
8/ Missile Berkovic
9/ Robbie Nuclear Winters
10/ Kris Greenham Commons
11/ Kim Jong Un (the boy who cried Wolfart...)
AND FINALLY...
The song that played us out? Well, just for our Swedish guests in the studio, we suggested an Abba song that we could dedicate to someone in Scottish football.
And the winner - submitted by Chris Lawrie in Paisley - was the double A-side Knowing Me, Knowing You and The Winner Takes It All for Charles Green and Craig Whyte.
To join in the fun on this Saturday's show, call 0500 929500, text 80295 or email offtheball@bbc.co.uk
Listen to the most recent Off the Ball programmes.
Download the latest Off the Ball podcast.