Bury: League One strugglers 'need £1m to survive'
Last updated on .From the section Football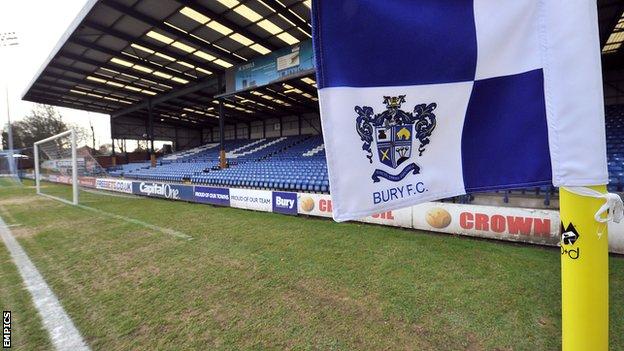 Struggling Bury say they are in "critical" financial trouble and need £1m of external investment to survive.
The League One club have appealed for interested parties to join a consortium and invest £100,000 each.
Bury are bottom of League One and will be relegated if they lose to local rivals Oldham Athletic on Saturday.
The Shakers are having taken a short-term loan from the Professional Footballers' Association in February.
It is the second time this season that the sanction has been imposed, having been
The statement, which was released on Wednesday afternoon, read: "Bury FC has been experiencing financial difficulties all season and we are currently in a transfer embargo imposed by the Football League because of our short term loan from the PFA.
"At this moment in time the situation is now critical. We are quickly running out of money by trying short-term fixes that are not working long term.
"The club desperately needs £1m of external investment to secure the long-term future of the club. Without this investment the club will cease to trade and there will be no more professional football played at Gigg Lane.
"We are looking for a number of people, local businessmen or women to join a consortium and invest £100,000 each, with a guaranteed payback.
"We need you now because - I repeat - the club will close. "We have a responsibility to all of our staff, players and creditors to not allow the situation to get any worse."
Average league attendances at Gigg Lane have dropped from around 3,500 to 2,733 during the 2012-13 campaign.
The club were in an attempt to save money on wages, while manager Kevin Blackwell has been unable to select a full compliment of seven substitutes for many recent League One games.
After the second transfer embargo was imposed, Blackwell revealed that "three or four" of his players were
Speaking after the statement was released, the former Leeds and Sheffield United boss told BBC Radio Manchester: "I wasn't aware of it until one of the directors rang me and told me the statement was coming out.
"It's quite a shock, but I've known for quite a while that the finances at the football club were not in the strongest position.
"The statement says the very future of the club is now paramount. Clearly we've got to sort the finances out for the club to have a viable future.
"Football is long-standing in Bury and, for it to remain, everybody has to dig deep."