Rangers: Ally McCoist deserves praise, says Walter Smith
Last updated on .From the section Football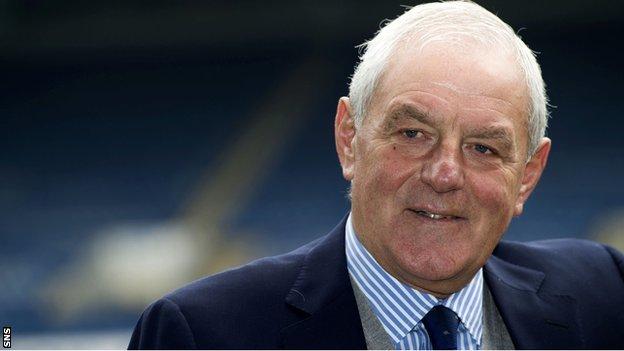 Former Rangers manager Walter Smith believes successor Ally McCoist has not had "the credit he deserves".
McCoist took over from Smith a few months before Rangers entered administration in early 2012.
After the club's assets were sold, McCoist started this season managing Rangers in Division Three.
The title was won by McCoist's team last month and Smith said: "It's been far more difficult than most people thought that it would be."
And, in reference to last summer, Smith commented: "There has never been a more shambolic pre-season.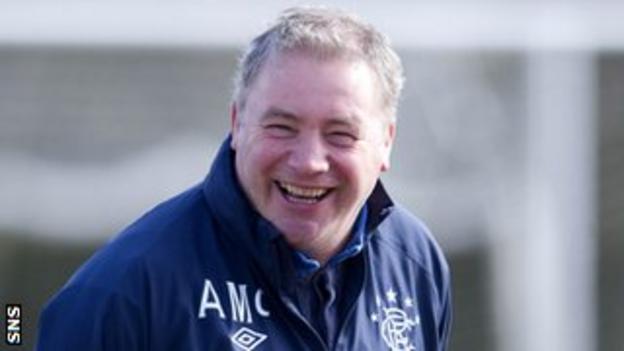 "The teams in the Third Division deserve a lot of credit for the way they have set themselves up.
"But Rangers, and Alistair in particular, deserve credit for lifting the team from where they were at the start of the season."
McCoist is understood to be following a newspaper report that the chief executive wanted to remove assistant Kenny McDowall and coach Ian Durrant.
"Those stories are not helpful," Smith said.
"You would hope that at some stage it would all settle down. It's a football club but for two years we have hardly talked about the football. It's about time that was rectified.
"We have to get back to talking about football at Rangers, that's what's important. For too long we've been bogged down with other things.
"As far as the boys are concerned, I brought Kenny here from Celtic and took Ian Durrant up into the first-team coaching position and we had a terrific run of success.
"As any manager will tell you, your backroom staff are an important factor and they did a fantastic job for me.
"I've not been privy to any discussions behind the scenes. Hopefully in the next few days, everyone can sit around the table and discuss everything that has been reported in the media."