Scotland need new heroes, says Gordon Strachan
Last updated on .From the section Football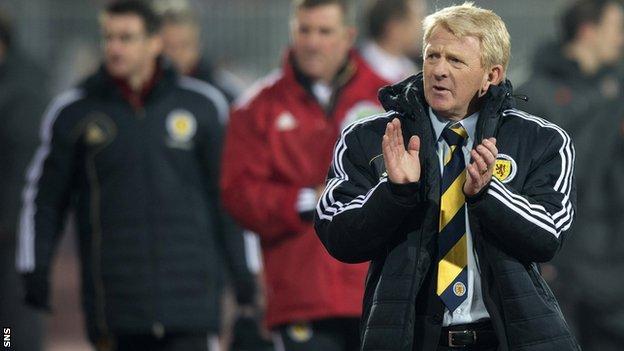 Scotland coach Gordon Strachan believes the nation needs to produce new "heroes".
The Scots have missed out qualification for next year's World Cup in Brazil and have not reached a major finals since 1998.
"We need to try and produce heroes for them, for the kids, because we've always had heroes," Strachan told BBC Scotland.
"No matter who we supported, we always had heroes in the Scotland side."
Strachan believes players like James Forrest, Shaun Maloney and Robert Snodgrass can provide the inspiration he is looking for.
"There are players like that who can be heroes," he said.
"People say to me, 'you have to shut up shot and be defensive-minded and make sure you don't get beat'.
"I don't know if that produces heroes. Heroes are people who excite you, score goals, make you want to be a football player.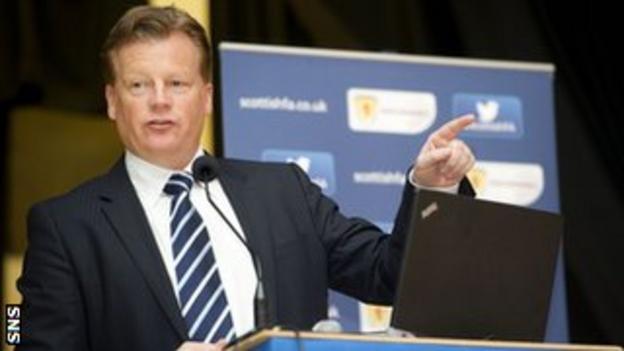 "If you can't be a hero then be a good teammate.
"I want to try and get as many players who can beat people on the park as possible.
"I'm a football fan, really, and all I want to do is watch football that I enjoy watching. There's no ulterior motive for me, it's not that I'm doing this to go somewhere else in my career."
The Scottish Football Association has introduced regional performance schools under the guidance of performance director Mark Wotte.
And Strachan hopes to make a positive contribution for the present and the future.
"I think we're getting more realistic as supporters now," he explained. "We're seeing that nations have developed in a way that we can't develop because there are certain restrictions on us.
"But there are things we can do. I hope my input would help with Mark Wotte and where we want to go with our younger players.
"Until then, we've have to get something that's going to make our players feel good about themselves but more importantly the country and that is getting a system that'll make us win games of football."
Meanwhile, Strachan expects Celtic and Rangers to be playing in a pan-European league "in 10 years' time or so".
"I think 38 [European] clubs will break away and make two divisions and the owners will do everything they can to get the sponsorship and TV money there," said Strachan at the Soccerex conference in Manchester.
"That's the way I think Celtic and Rangers will eventually go, and we have to make sure Scottish football is in a healthy position before we get to that point."