Kevin Keegan says Robert Mancini must stay as Manchester City boss

Last updated on .From the section Football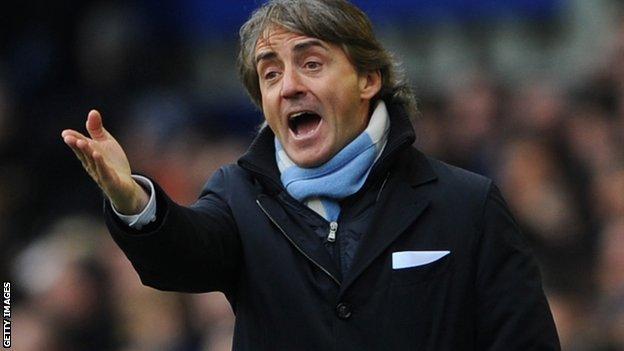 Kevin Keegan has described the mounting pressure on Manchester City manager Roberto Mancini as "ridiculous".
Keegan urged his old club to stand by the Italian even if they end the season without a trophy.
"You can't win the title every year, you can't expect to in the Premier League - Mancini has done a great job," said Keegan, who left City in 2005.
"In any other sport, it would be ridiculous to question someone who has won their first trophy in 30-odd years and then won the League," he said.
Keegan, speaking at the Soccerex conference in Manchester, said that despite City's failure to mount a sustained defence of their title - they trail United by 12 points - the club were making progress.
"Europe was a disappointment, but you're going to get those. Europe was disappointing for United and Chelsea as well. I don't think there's even any question that anything should happen to Mancini.
"It's not easy when so many new players are brought in. They have to gel, and if it was that easy, everyone would do it. They have had some disappointing performances this year but if I was a Man City fan, I'd wake up every morning thinking there's a lot more to look forward to."
Keegan said he expected Mancini to strengthen his squad in the summer and admitted that as both a player and a manager he enjoyed seeing new faces come into the squad.
"As a player you want to see new players coming in. Players that are going to improve your squad and lift the place. That was why Van Persie was such a masterstroke by Sir Alex," said Keegan.
"I am sure Mancini will want to make more signings this summer to keep everyone on their toes. But Yaya Toure has just signed for another four years and he's a key player."
The sackings of Nigel Adkins,Brian McDermott and Martin O'Neill in recent weeks have highlighted the pressures facing managers and Keegan admitted he was baffled by the high casualty rate in the top flight.
"It can't be right, but it can happen. If Nigel Adkins can leave Southampton, or Reading can sack a manager Brian McDermott with eight games to go, that tells you everything.
"You will never get another manager at a big club who gets the time Sir Alex Ferguson has been given. Maybe at a smaller club, like Dario Gradi at Crewe, but not at the bigger clubs. The pressures are too intense."
Keegan went on to say that City's emergence as serious title contenders had been good for the English game but that he had never expected champions-elect United to roll over and allow their cross-city rivals to dominate.
"There has been a power shift with Manchester City in the last two years, they have put a lot of investment in and bought a lot of good players," he added.
"Manchester United's biggest rivals now are just one or two miles away, they are not 200 miles away in London or 20 miles away in Liverpool, they are right across the city.
"It has been good for football, Manchester United have responded in the way this year that you would expect Manchester United to respond, they were hurt with what happened last year when it was snatched away at the last minute. "
City's last chance of a trophy this season is the FA Cup and Mancini's side face Chelsea in the semi-final at Wembley on Sunday.
"Mancini has a great chance to win the FA Cup. It is really just one game away because if they beat Chelsea you can't honestly see Wigan or Millwall beating Manchester City in a final, so he could win three trophies in three years," he said.