Sheffield United: Neil Warnock would consider Blades return
Last updated on .From the section Football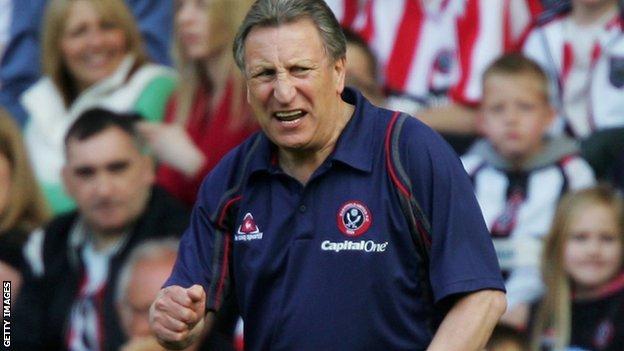 Former Sheffield United boss Neil Warnock says he would consider a return to the club as director of football.
Warnock told BBC Radio Sheffield: "I always thought I'd finish my career there."
However, owner Kevin McCabe said: "I've not spoken to Neil and I don't think he'll be coming. We're well served."
Warnock managed the Bramall Lane club from 1999 to 2007 and is a Blades fan.
The 64-year-old, who has been out of work since leaving his position as Leeds manager earlier this month, suggested he would be keen on taking a director of football position before he departed from Elland Road.
He added: "I think it is going to be important to have someone working between the manager and the board now.
"A manager nowadays needs a lot of help because of all the social networking and the media spotlight. They get very little respite.
"I actually spoke to Kevin about doing it when I was there before. I said 'let's get the team up, keep them up and then I'll go upstairs'."
He left Bramall Lane after the 2006-07 season when they were relegated from the Premier League on the final day of the season.
Having signed Morgan for the Blades in 2003, he is confident the former club captain can do a good job.
"They couldn't have anyone better in terms of passion and knowing what it takes to get the lads going," he added.
"He's a thoughtful lad off the field and you get what you see so I think it is a logical step.
"Sometimes a fresh approach like this can surprise everybody.
"He'll know the players inside out and he's just got to try to get a spark and get them lifted."
Morgan takes control of the side for the first time in Saturday's game against promotion rivals Swindon.