Brentford: Uwe Rosler hails professionalism of young players
Last updated on .From the section Football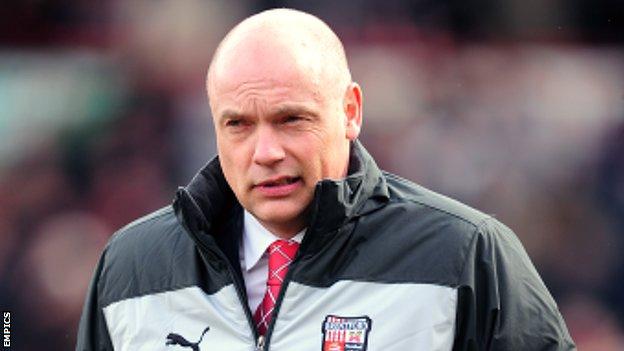 Brentford manager Uwe Rosler believes they are in a "fantastic position" after their 2-0 win at Crewe kept their automatic promotion hopes alive.
The win put the Bees just two points behind second-placed AFC Bournemouth, with a game in hand.
"The players went into the game focused on the job in hand.
"We were professional and knew what we had to do to win. With such a young side that is quite an achievement," Rosler told BBC London 94.9.
"I am impressed how the young players are coping.
"When you are working with young players you have to give them the room to make mistakes. Hopefully, [there are] not too many and hopefully, they learn from them."
Brentford finished ninth in League One last season in the German's first campaign at Griffin Park following his appointment in June 2011 and this term, have been in and around the play-offs since November as they look to return to the second tier of English football for the first time since 1992-93,
"We said we wanted to progress from last year and I think we have achieved that, there is no doubt," Rosler continued.
"We have been in the top six constantly. We had a period where we lacked confidence and belief but we turned that around.
"We have a high expectation in ourselves but the club has not been in this position for many years.
"Our own expectations go higher with the expectations of our supporters. Who knows, maybe we make the unbelievable happen."
The 44-year-old former Manchester City and Southampton striker signed a new two-year deal in January and is keen for the club to continue progressing ahead of a planned move into a new stadium in summer 2016.
"There is a reason why I signed a two-year extension to my contract and why Mark Warburton [Brentford's sporting director] signed a three-year one," he said.
"We are not finished with our job here. Our job is to have an established Championship side in the new stadium in 2016.
"We are working extremely hard and we don't want to leave someone else to earn that prize."