Kevin Blackwell worried Bury could slide out of Football League
Last updated on .From the section Football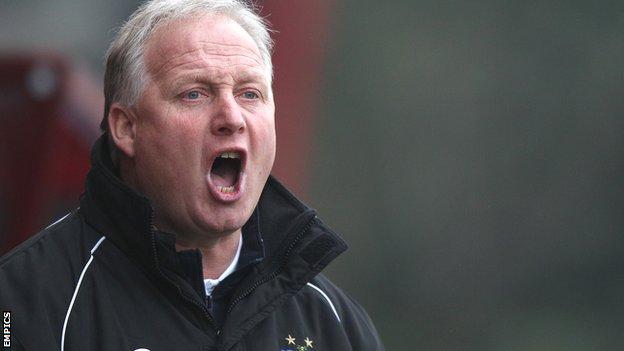 Manager Kevin Blackwell fears Bury could eventually drop out of the Football League unless the club's finances are secured.
The board say they have had "positive discussions with potential investors" after warning they will "cease to trade"
"We need to sort the finances out," Blackwell told BBC Radio Manchester.
"Otherwise there will only be one option and that's to slide out of the League. God forbid that happens."
Bury will be relegated to the fourth tier if they lose to local rivals Oldham Athletic at Gigg Lane on Saturday.
Blackwell continued: "It was one of the big, contentious issues at the fans' forum last week - are we preparing to make sure that we don't slide straight through? Many clubs have done that, but we need to sort the finances out."
Chairman Brian Fenton had been expected to explain the situation at a media conference on Thursday, but reporters were informed that no representative from the board was able to attend as the directors were involved in meetings.
A further statement published on the club website on Thursday afternoon read: "The board can confirm we have had positive discussions with potential investors to secure the long-term future of Bury Football Club.
"We anticipate that the investment funds being requested will be used to continue running the club in a normal trading manner, which would include paying outstanding creditors and season ticket commitment.
"We would hope that supporters will continue to support the club in the remaining fixtures."
Blackwell has managed under serious financial constraints before - he was appointed as Leeds boss shortly after their relegation from the Premier League in 2004, and was sacked by Luton after they entered administration four years later.
And although Bury's difficulties have been public knowledge throughout the season, Blackwell admitted in an interview on Wednesday that he had been "shocked" by recent developments and had only discovered the severity of the problems around 90 minutes before a statement was released on the club's official website that afternoon.
"It took all the staff by surprise," added the 54-year-old. "Clearly, the club's been in trouble financially and that [initial] statement clarifies it, that's for sure.
"I clearly understood that the finances weren't good but I didn't see a statement of that magnitude. It was a significant statement to make.
"You've just got to carry on and keep doing what you're doing. I know they [the board] are working hard to get finances in. It's been tough lately for them and maybe that's the catalyst for the statement.
"People are going to call me a bit of a 'Jonah' after what happened at Leeds and Luton, but looking at those incidents, this is the toughest one."
Bury, who are bottom of League One, have twice been placed under a transfer embargo by the Football League this season.
following the receipt of a short-term loan from the Professional Footballers' Association, and although that was when the loan was repaid in full, the when Bury approached the PFA for a second loan in February.
Dave Gifford, the chairman of Forever Bury - a supporters' trust formed shortly after the club exited administration in 2002 - believes falling attendances at Gigg Lane have had a major effect on finances.
The Shakers have attracted an average home crowd of 2,733 in League One during the 2012-13 campaign - around 800 down on the average figure from last season.
"We work closely with the board and we have seen it coming," Gifford told BBC North West Tonight.
"The crowd has dropped and dropped. When that's a major part of your budget and you lose that, and you add that the commercial revenue has been down as well, it's just been very, very tough.
"If the town doesn't want a professional football club, they won't have one.
"We need people to get through the gates and to matches. I know it's difficult and it might not be pretty at times, but that's what it needs. The directors are appealing for investors to come in and put money in, but realistically in the long term, what the club needs is fans on the seats."
The latest financial worries have provided another unwelcome distraction for Blackwell's squad as they prepare for the home game against the Latics on Saturday.
"It was a big blow for them," said Blackwell. "They [the players] were obviously very angry and wanted to speak to people at the club, which they weren't able to do.
"They've got to try and play for themselves now and they've got to look after their careers - the best way they can do that is to play well on Saturday."