Zambia continue slide down rankings
Last updated on .From the section Football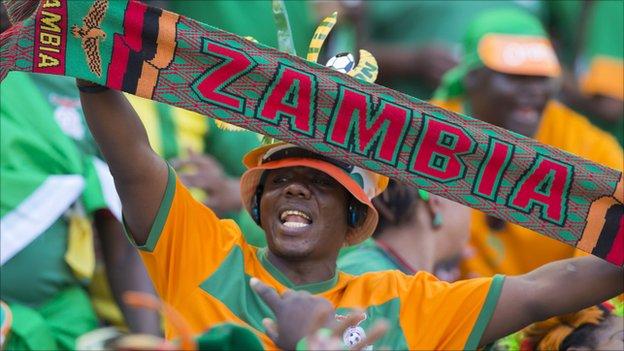 Zambia's slide down the Fifa rankings has continued with the Chipolopolo dropping nine places this month.
According to the April world rankings released on Thursday, the 2012 African champions are now no better than 45th.
Although Herve Renard's side are still in Africa's top 10, they have gone downhill since winning the Nations Cup.
Alarm bells have been ringing in their camp since the 1-1 against Lesotho in a 2014 World Cup qualifier on 24 March.
South Africa have dropped two places to 62nd globally, despite their World Cup qualifying win against Central African Republic last month.
Former African champions Cameroon are languishing in 60th place, and only just made the African top 10.
Ivory Coast continue to rule the roost on the continent and sit just two places outside the world's top 10.
Ghana's Black Stars and the Eagles of Mali maintained second and third place respectively while Tunisia leap-frogged Zambia into sixth spot.
Equatorial Guinea rose 45 places to 59th in the world after beating Cape Verde 4-3 in a World Cup qualifier, but could be docked three World Cup points and the ranking points if Fifa finds them guilty of fielding an ineligible player.
World and European champions Spain lead an unchanged top three, with Germany and Argentina in second and third respectively.
Incredibly, Brazil are now just the 19th best team in the world, according to the latest rankings.
Top 10 in Africa:
1. Ivory Coast (12th in the world)
2. Ghana (22nd)
3. Mali (26th)
4. Nigeria (31st)
5. Algeria (35th)
6. Tunisia (41st)
7. Zambia (45th)
8. Burkina Faso (50th)
9. Equatorial Guinea (59th)
10. Cameroon (60th)