Gus Poyet: Brighton in four-way fight for play-offs
Last updated on .From the section Football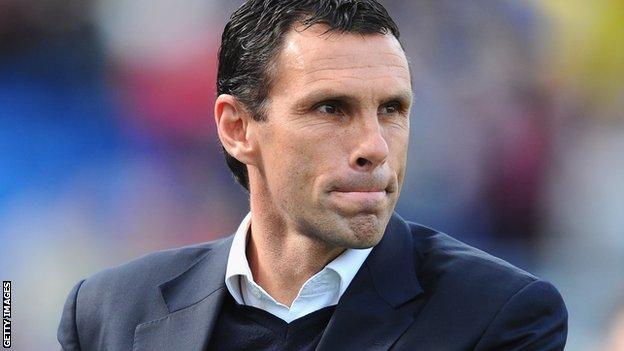 Brighton & Hove Albion boss Gus Poyet says his side are in a four-way battle for two Championship play-off places.
The Seagulls are currently sixth, one point behind Nottingham Forest and two points ahead of Leicester and Bolton.
He told BBC Sussex: "Between Forest, us, Bolton and Leicester, [two] are going to be fifth and sixth - no doubt.
"I don't think there will be a massive surprise with someone from really far behind making up 15 points and all the rest making six or seven. No chance."
He added: "People are trying to say Crystal Palace are in the mix but I think they will win three from the last five.
"Between our four it will be two teams."
Poyet's side were challenging for a play-off place last season but fell away from the top six after failing to win any of their last eight matches.
This year, the Uruguayan believes his side are better placed to deal with the run-in.
"We are in a better position than last year and we are better prepared with a better team," he said. "As a club I think we are very lucky to be in the position that we are.
"If you think about the teams which should be ahead of us, maybe now we'd be talking about a decent or very good campaign being ninth or whatever.
"We are there because we deserve to be. We will do our best to finish in that top six and then we'll see. Everyone knows that in the play-offs it's all about one day, not 46."
In February Poyet set his players a target of around 75 points to ensure a place in the top six.
However, after the 1-1 draw with promotion rivals Leicester on Saturday, their third successive stalemate, he believes three wins from their last five matches should clinch a play-off place.
"Mathematically it is impossible to know," he continued. "I said three because then the teams behind would need to win four.
"Do I see them winning four? Well, yes, they could win five and then we have got a problem.
"I think it would be difficult at this stage for a team to win four from five. The idea is - let's win the three as soon as possible. If not, we need to make it happen. It is a race of 46 games so we need to go to the end.
"I'd like to concentrate on us and make sure we are right, especially mentally. It looks to me that we are."