Nigeria withdraw from African Nations Championship qualifiers
By Oluwashina Okeleji
BBC Sport, Lagos
Last updated on .From the section Football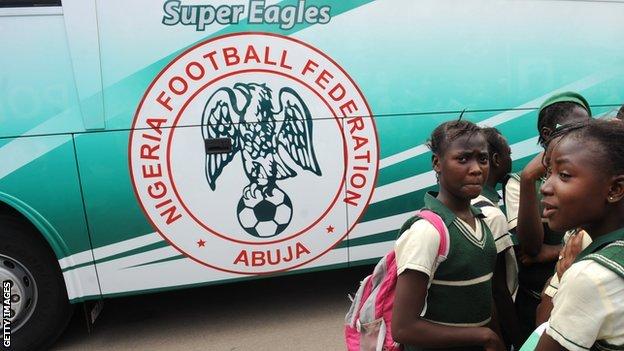 The Nigeria Football Federation has withdrawn its team from the 2014 African Nations Championship qualifiers due to financial constraints.
Nigeria were set to play Ivory Coast in Calabar between 21-23 June, in the tournament for locally-based players.
The NFF's Emeka Inyama announced that the withdrawal was taken by the football authority to cut costs.
"We have a lot of financial commitments and we have to look at the competitions in order of importance," he explained.
It means that Ivory Coast have qualified for the finals to be held in South Africa next year
The reigning African champions have failed to qualify for the tournament on two previous occasions.
In another move aimed at slashing costs the NFF has cut salaries and bonuses for their players and coaches.
The federation's technical committee has recommended that the Super Eagles' win bonus of $10,000 be reviewed downwards along with the salaries and allowances of the various national team coaches, excluding coach Stephen Keshi.
"We have talked about auditing of staff of the national teams, especially backroom staff, as well as pegging of bonuses and allowances," he told BBC Sport.
"We have a contract with coach Stephen Keshi and must respect that, so he won't be affected in any way.
"However, we are constrained to do this as a result of our poor finances and we believe that Nigerians understand we have to do this.
"It's very important for us in order to continue to fulfill our obligation of presenting the national teams for international competitions and tournaments."
Officials have suggested that the win bonus will now be pegged at $5,000.
The NFF are also planning a total restructure of backroom staff, with several members set to lose their jobs while they will appoint a new technical director in the near future.
Former Super Eagles coach Shaibu Amodu is being tipped to be appointed to the new post.
The Super Eagles have five coaches, including three assistant coaches, and a total of 17 backroom staff.