Stewart Milne finds St Mirren's stance on reform hard to take
Last updated on .From the section Football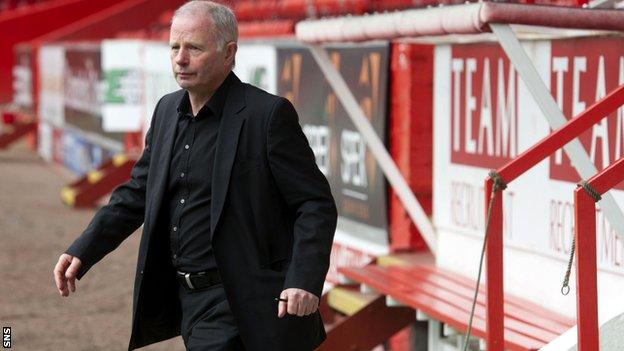 Aberdeen chairman Stewart Milne has criticised St Mirren for going public with their opposition to Scottish league reconstruction plans.
Clubs will next week vote on the 12-12-18 model, which would involve the top two tiers splitting into three leagues of eight midway through the season.
Milne finds St Mirren's stance "very difficult to accept" and has urged Ross County to vote in favour of the plans.
The Dingwall club are understood to be considering rejecting the proposals.
With an 11-1 majority needed for measures to be passed by the Scottish Premier League, 'no' votes from St Mirren and County would effectively halt the 12-12-18 plan before Scottish Football League clubs have the chance to hold a vote of their own.
Milne says all 12 top-flight clubs were in favour of the plans when they held meetings in December and January.
"To find out in the press one of the clubs changed their mind and didn't have the courtesy to wait until next Monday to discuss it with their fellow members first, I find very difficult to accept," Milne said of St Mirren's opposition.
"Many other chairmen do as well."
County chairman Roy McGregor is expected to meet with his board on Friday to decide how they will vote.
"I appreciate the way Roy and his board have handled it to date," explained Milne.
"Every single one of the 12 clubs has concerns about certain aspects of the plan. We've only been able to come up with this plan because there's been compromise on all fronts.
"Yes, they've got to look after the interests of Ross County but there's also a need to think about the wider aspects of Scottish football.
"I think if we fail to deliver this plan on Monday then there will be serious implications for Scottish football going forward."
Milne feels Scottish football "is currently on its knees financially" and believes 12-12-18 as an alternative to the current 12-10-10-10 offers a solution for all senior clubs.
"The fact that it is an all-through distribution system is going to bring benefits right down through all the clubs," he added.
"It's the easiest thing in the world to say we want a 16-team league or an 18-team league. The reality is that to introduce a 16- or 18-team league would finish off a great many clubs."
Hearts have also backed the SPL's proposals and have indicated they will vote 'yes' next week.
"Hearts believes that it has a responsibility to the game in this country and that the new proposed 12-12-18 structure, while by no means perfect, delivers a series of important improvements," said a statement on the club's official website.
"These are improvements we, along with many other clubs and their supporters, have lobbied for in recent years.
"It is incumbent on us to deliver change for the game as a whole and in turn improve the longer term prospects of all clubs, at all levels, within the game."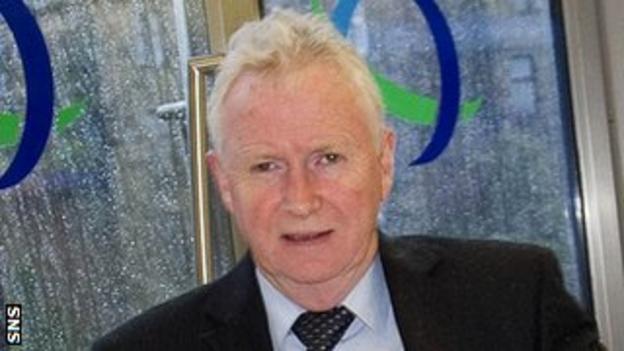 Meanwhile, Inverness Caledonian Thistle chairman Kenny Cameron fears another opportunity to restructure the Scottish game may be some way off if the 12-12-18 plan is rejected.
"I'll be disappointed if the new proposals do not go through, as they deliver most of what the supporters and the majority of clubs want," he said.
"The set-up is far from ideal from an ICTFC perspective but all 42 clubs should get behind the changes proposed with a willingness to work together for the betterment of all clubs in Scotland and the game in general.
"Let's use the proposed model as a stepping stone on the journey for change, the key that unlocks the door that has remained firmly closed for so many years.
"If the SPL gets its fingers burned this time, having come such a long way, then my fear is that it may be years before we come so close again."