Swansea willing to sell best players, says Michael Laudrup
Last updated on .From the section Football76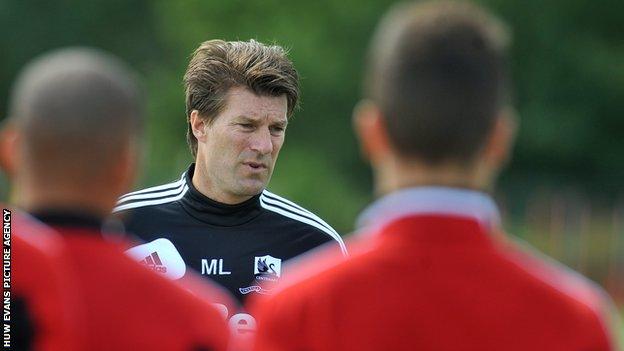 Manager Michael Laudrup says Swansea City would have "no problem" selling their best players over the summer.
Michu, Ashley Williams and Michel Vorm have emerged as potential targets for some of Europe's biggest clubs.
Joe Allen,Scott Sinclair and Danny Graham have been sold for a combined total of £28m during Laudrup's reign.
And the Swans boss said: "You can't keep too many players against their will. There can be many reasons when it can be difficult to say no [to a bid]."
Laudrup, though, insisted there would be no mass exodus from the Liberty Stadium and stressed that some players will only be sold if it benefits the club.
"If we have three or four regulars saying they have the possibility to join a bigger club and want to go, we can't allow that," he said. "But there might be one case."
Laudrup used the £15m sale of Allen to Liverpool as the perfect example of an offer that was too good to turn down.
"He's a very good player, but £15m... when I heard those figures I couldn't believe it," said Laudrup.
"A case like Joe Allen you have to say 'what do we gain by keeping him here if he really wants to go, the money is good and what would we do with that [transfer] money?'
"I think it has been a good deal for Swansea. Joe is a very good player but we got Jonathan de Guzman, who has already scored eight goals and playing the same position.
"We did well there. You can't always do that, but it's a balance."
Swansea want to make De Guzman's loan move from Villarreal a permanent one, but Laudrup does not expect to make any progress before the end of the season.
Other targets have been identified, with Real Betis midfielder Jose Canas expected to add Swansea's already significant Spanish contingent.
Romelu Lukaku, the Chelsea striker on loan at West Brom this season, is another possible target.
Laudrup added: "Some of the names linked with Swansea are good players, very interesting players. I'm happy about that.
"These are good players we are talking about. In this particular case [Canas] we are talking about the captain from one of the big surprises and quite a big club from Spain.
"And the other one [Lukaku] has had a huge impact on the West Brom season with 13 league goals."
The sale of Allen and Sinclair contributed to Swansea announcing a £15.9m profit for the six months up to the end of November 2012.
Funds will be made available to Laudrup to strengthen his squad. With extra games on the cards next season as a result of qualifying for the Europa League, a priority this summer will be boosting the size of the Swans' squad.
The £2m spent on striker Michu has become known as the bargain of the season, and his 21 goals have alerted a host of top clubs.
Laudrup fears he will struggle to strike such a deal this summer with so many other Premier League clubs following their lead by targeting the Spanish market.
"That's the downside," he said. "We had Eric [Larsen] in Spain and he was saying he sees more and more known faces from the Premier League looking at Spanish players.
"But it's not about spending a lot - it's easy to spend a lot of money. I'd rather spend well.
"We know that Swansea is one of the bottom clubs when we're talking about what to pay in salaries and transfers, so we have to do our work nice and quiet, and we will.
"But of course you cannot get everybody very cheap, but we'll try to find a combination.
"Maybe we were lucky with a couple of players to get them very cheaply, like we did with Michu.
"On others, we may have to pay a little more because quality up front costs a lot of money."