Football League: Battle to stay in League Two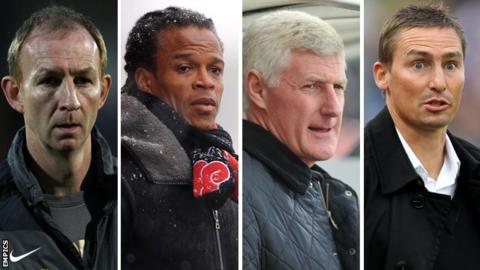 For the clubs scrapping to remain in League Two, there is a stark reality that by going down, it may be a while until they come back.
It has been eight years since a side dropping out of the Football League has bounced straight back with promotion - Carlisle in 2005 - and 10 of the Blue Square Bet Premier's current crop of 24 teams have been a League side in the past eight years.
Cambridge United and Kidderminster have wallowed in non-League football since 2005, although the latter are making a concerted push for freedom.
Luton Town, a top-flight side as recently as 1992, a year before the introduction of the Premier League, are facing up to a fifth consecutive campaign outside of the top four divisions.
And leaders Mansfield, as well as Grimsby, Lincoln, Stockport, Macclesfield, Hereford and Wrexham were all happily ensconced in the fourth tier at some point in the past decade until the unthinkable happened.
"Basically, it seems to get more difficult with every passing season to climb back into the Football League," Luton chairman Nick Owen told BBC Sport.
"Most of the clubs are full-time and plenty have been in the Football League, either recently or in the distant past.
"It's a genuine fifth division, or League Three, if you like."
with his side hovering above the League Two relegation zone, only nine months after dragging the Minstermen out of the non-league quagmire.
"It's the toughest league to get out of, with only two going down [from League Two] and two up," he said.
"There's big clubs that have been in the Football League for a lot of years dropping down and finding it difficult.
"It was a massive relief when it finally happened. It was a special year for us."
As it stands, any two from eight, between Aldershot at the bottom and Dagenham & Redbridge in 17th, are in danger of relegation to the Conference.
All of them, apart from Plymouth, have experienced non-league life in recent times. None of them want to try it again.
League Two clubs receive around £665,000 from TV money and Premier League handouts each year.
Compare that to the meagre TV funds available in the Blue Square Bet Premier. In the 2010-11 campaign, home sides received £5,000 and away teams £1,000 if their game was screened live.
"When you go up you get more money from the gate receipts," Mills points out.
"The crowds were about 2,200 when I first went to York and then it goes up to 3,500. That generates a lot more money."
Midfielder Craig Stanley, whose Aldershot side are one point adrift of safety at the foot of League Two, told BBC Surrey: "We have got our careers to play for.
"Aldershot needs to be a Football League club next year and I am hoping we will be.
"We are still in with a fighting chance and we are working hard in training. Everyone knows the next couple of weeks are the biggest in our careers and I will fight as hard as I can to make sure we stay in the League."
Stanley made his comeback from eight months out with a broken leg and ankle ligament damage in the midweek draw at Port Vale in order to do his bit for the Shots' cause.
And although team-mate Paul McCallum, on loan from West Ham, has the get-out of a return to Upton Park should the worst happen, he is also fully aware of what is at stake over the closing weeks of the season.
"None of us want to get relegated," he said. "This is people's livelihoods and even being on loan, I don't want to have a relegation on my record.
"We have just got to keep fighting until the last day of the season."
When Mills took over at York the club were 16th in the Blue Square Bet Premier.
Just 30 months later, and with a promotion in the bag, he was sacked with the Minstermen 18th in League Two, four points clear of the relegation places.
"Everybody sitting in the stand wants instant success," he said, alluding to the achievements of Stevenage and Crawley, who both manufactured back-to-back promotions from non-League to League One.
"At York, we go up and the fans want you to go straight up again, whereas staying up is a success.
"I was asked to do three jobs at York. First, to keep them up in the Conference, then it was to get promoted and this season I was told to keep us in the league and would have done that. Now they're in the bottom two.
"You have to be brave. Once you start panicking and you start to change things, it escalates everything."
A debate persists over whether there should be three up and three down between the divisions.
Mills believes it is worth exploring - although sides in the lower echelon of League Two would most likely dismiss the idea.
Owen, also a supporter of the concept, will meanwhile keep an envious eye on the rewards reaped by their loftier peers.
"All have ambitions to get back to the Football League because their gates will increase, opponents bring more away fans, television money goes up substantially, they receive a handout from the League and they're playing a better standard of football," he said.
"The package is very attractive. And, of course, what is football without ambition?"
BBC Sport will be taking a closer look at stories from outside the Premier League before every weekend league programme in our Football League Friday features.