FA Cup: Chelsea v Man City: Mancini & Benitez both need win

By Phil McNulty
Chief football writer
Last updated on .From the section Football298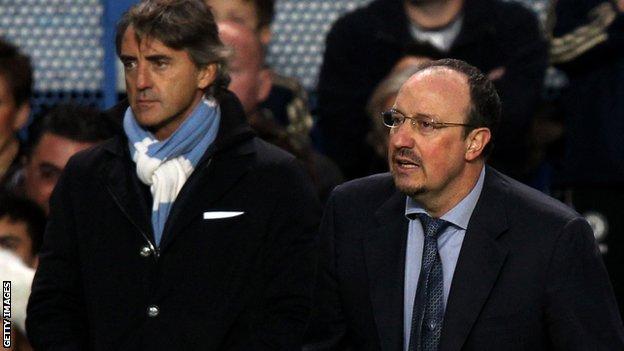 The first tangible evidence of Roberto Mancini's expensive reshaping of Manchester City came with the FA Cup Final victory against Stoke City at Wembley in 2011 - ending a spell of 35 years without major success.
Time and expectations have moved on at such pace that two years later a similar victory will still not stop Mancini concluding the season with questions being asked about his long-term future.
A victim of his own success and spending perhaps, but should they fail to beat Chelsea in Sunday's FA Cup semi-final at Wembley, City will be left to sift through the disappointments of a season without reward when they lost their Premier League title to Manchester United and offered up a wretched, winless Champions League campaign.
Just a few yards away in the opposition technical area at Wembley will be Chelsea's interim manager Rafael Benitez. Benitez has no such fears or pressures about his own long-term future at Stamford Bridge. He has never had one.
From the moment he emerged in front of the cameras in Stamford Bridge's Bobby Tambling Suite on 21 November accompanied (unwittingly) by a Rolling Stones backing track, Benitez was short-term.
So while Sunday's meeting will help define, if not completely salvage, Manchester City's season it is fair to suggest there is more to lose for Mancini than Benitez.
Former England manager Graham Taylor believes Mancini must accept he will face tough questions should he follow up a title-winning season with an empty-handed one.
Taylor told BBC Sport: "It is very important for Mancini. He can't get away from the fact a lot of money has been spent and that means people are expecting success. As a manager, if you win a trophy every year you're doing very well."
For Mancini, an FA Cup victory offers him the chance to at least present some form of success to City's ambitious Abu Dhabi owners - even though it was not the prize at the top of their agenda after winning their first title in 44 years last season.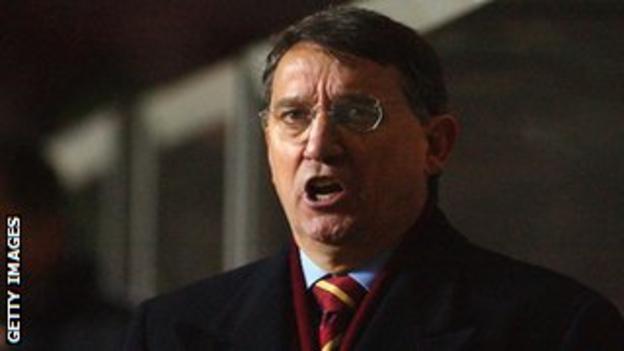 "The only thing they have got left is the FA Cup so I think it is very important to them that they win it," said Taylor.
"As a manager you have to accept that you are looked upon as responsible for results in how you prepare your team and what they do. We all know that can be unfair because there is also a responsibility for performance with the players.
"I think Mancini would be questioned if he ended the season without a trophy."
The victor in this game knows they will go into next month's final as overwhelming favourites as they will face the winners of Saturday's semi-final between Premier League strugglers Wigan Athletic and Championship side Millwall.
Benitez knows that even if he successfully grabs at all Chelsea's possibilities, a top-four place and winning the FA Cup and Europa League, it will not shift owner Roman Abramovich's position one jot. He is out once his interim deal is done.
The Spaniard has insisted guaranteeing a place in next season's Champions League is the priority, it is certainly Abramovich's, but there is an intriguing contradiction at work at the heart of Benitez's final few weeks at Chelsea.
He will soon be a football jobseeker. A place in the top four would be preferable but an FA Cup and/or Europa League win might just be a more compelling entry on the CV that he will present to prospective employers this summer.
Chelsea reached the Europa League semi-finals on Thursday after a 5-4 aggregate victory against last-eight opponents Rubin Kazan.
Taylor is sympathetic to what Benitez has had to face in his temporary role, including open hostility from Chelsea's fans, but believes he has put himself in the position to provide an emphatic response to his detractors.
"It has been strange," says Taylor. "When he was announced as an interim manager, that title - when players know you're only there until the end of the season - can work against you. I never thought it was a good title to give him. Some players can hide behind that.
"I've met Rafa on two or three occasions and the biggest thing that has struck me is his commitment to the job. He wanted to stay in England and his record is not bad at all.
"Every now and again he might have said things or had some words about Chelsea when he was Liverpool manager but we all do that. Jose Mourinho used to say these things and it has been used against Rafa.
"It is a big game for him. Even if he is interim, if he goes away having won the FA Cup and finishes in the top four then that looks good. And he still has a chance in the Europa League - what more would people expect?
"If he goes to Chelsea, wins two trophies and finishes in the top four then no-one can complain about that."