Roy Hodgson unhappy at clubs' international breaks policy

Last updated on .From the section Football350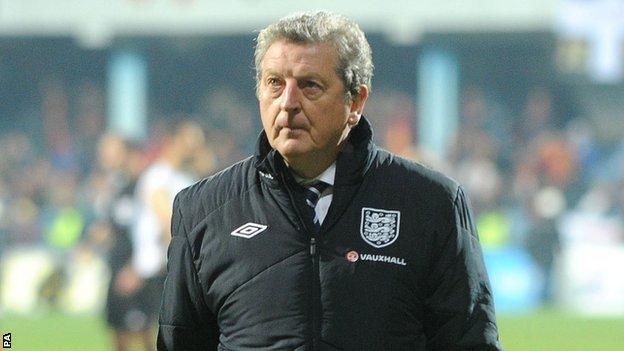 Roy Hodgson claims his England team is being undermined by club managers who effectively view international breaks as a chance to rest their star players.
"I would like to see the international break being taken seriously," he said.
Hodgson questioned the validity of club managers complaining about "burnout" among their players.
"How many players are playing 55 games?" he asked. "When you add up all the minutes for some players, it's not even 19 games."
Speaking at the Soccerex conference in Manchester, the England boss said international breaks are seen by clubs as a chance to give players a holiday.
"I'd still like to see it as a time when players go to play for their international teams. These breaks are being seen as the 10-day break that players don't always get during the season."
Hodgson has had to put up with his fair share of problems with player availability during his first year in charge.
Last month, following advice from Manchester United, Rio Ferdinand pulled out of the England squad for World Cup qualifying matches against San Marino and Montenegro.
Arsenal's Jack Wilshere spent that period in Dubai on the advice of Arsenal, trying to overcome injury.
"It concerns me that we [English football] are guilty of accepting 'it's the international break so we can give the player 10 days off or go to Dubai'. If you're a club manager now, you've got no excuse.
"You can easily plan your time around these blocks. If your players need a rest, it's not obligatory that it has to be during the international break. It can be during the other 40-odd weeks of the year."
While exempting goalkeeper Joe Hart and midfielder Steven Gerrard "who play more than the rest", Hodgson said claims of burnout should be treated with a degree of scepticism.
"We have to be careful when talking about overplaying.
"We take something as read because it is thrown at us. The season might be 55 games long, but you show me how many players are playing 55 games?"
With England fielding Under-20 and Under-21 teams this summer, Hodgson also spoke of his growing concern that youngsters are being over-protected by their clubs.
"I grew up in a generation when playing for your national team was vitally important," he said. "I can't understand why so many players should be denied the chance to play."
England coach Gary Neville, meanwhile, claimed young English players' chances were being harmed by the number of foreign stars in the Premier League.
"There's a tipping point that we've gone beyond in England," Neville said.
"I think it is 35% [the proportion of English players in the Premier League] and that is too low. In Spain, it's about 63%, which sounds about right. We're maybe 20% off.
"We need to give more chances to our own. We're harming ourselves a little bit. I've watched Chelsea beat Manchester United [in the FA Youth Cup], I've watched Manchester City beat Manchester United in the Youth Cup.
"I've seen these players - Josh McEachran [on loan from Chelsea to Middlesbrough] and others. Where are they? I can't work it out.
"The question is: 'Is the talent being produced or is the talent being lost?' I think there are definitely pathways being blocked."