Daniel Agger and Brendan Rodgers to attend Milk Cup draw
Last updated on .From the section Football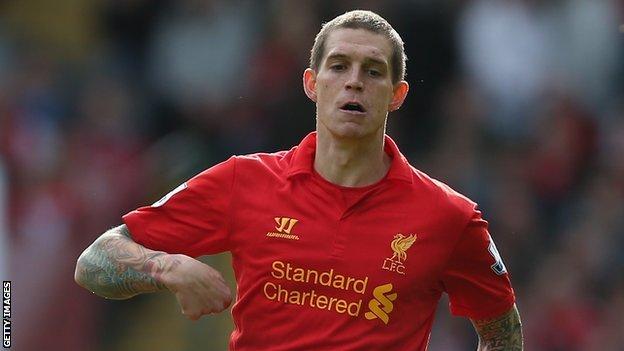 Liverpool's Daniel Agger will join his Anfield boss Brendan Rodgers at the Milk Cup draw in Belfast on 30 April.
Defender Agger, who captains the Denmark national team, says he is honoured to be involved with an event he played in a decade ago.
Liverpool manager Rodgers, from Carnlough in County Antrim, played in the international youth tournament three times for Ballymena in the 1980s.
He returned as a coach, introducing Chelsea to the event in 2005.
"Daniel was very keen to be involved when we asked Brendan if he would be available," said Milk Cup secretary Jim Weir.
"During last year's tournament he responded to our official Twitter account, recalling how that he played for the Denmark team in the Elite competition."
Liverpool will have representatives in the Premier and Junior competitions this summer and Agger is hoping to see a Denmark triumph in the Elite competition.
The Danes have been regulars at the senior level down the years but only secured a first ever title two years ago when they defeated Northern Ireland 1-0 in the final at Ballymena Showgrounds.
The Milk Cup draw will take place at the W5 in the Odyssey Complex, Belfast.
Coleraine hosts the traditional welcome parade of participating teams on Sunday, 28 July. Finals night will be on Friday, 2 August at the Ballymena Showgrounds.