Sir Alex Ferguson criticises international friendlies
Last updated on .From the section Football488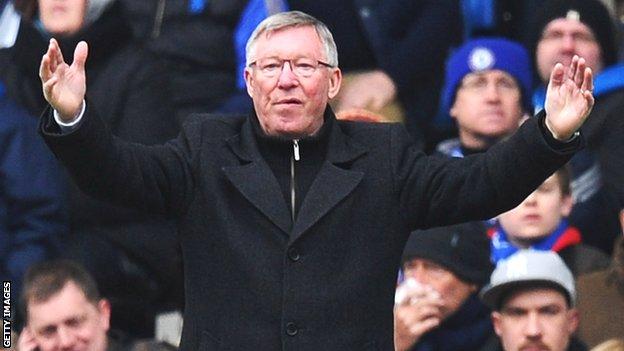 Manchester United boss Sir Alex Ferguson has questioned the scheduling of international friendlies after England coach Roy Hodgson
"Friendly games, for the last decade, have been played the Wednesday before the season starts," said Ferguson. "You tell me the sense of that.
"I've got no issues with competitive matches.
"But you can't tell me that should apply itself for friendly games."
Since on 1 May 2012, the national team have played five friendlies, including three days before the opening weekend of the Premier League season.
They have also contested three matches at the 2012 European Championship and six 2014 World Cup qualification games.
United defender Rio Ferdinand for World Cup qualifiers against San Marino and Montenegro. In the meantime, he flew to Qatar to work as a TV pundit on the San Marino game.
Arsenal and England midfielder Jack Wilshere spent that period in Dubai on the advice of his club as he recovered from an ankle injury.
Speaking at the Soccerex football business conference, Hodgson said international breaks are seen by clubs as a chance to give players a holiday.
"I would like to see the international break being taken seriously," he said. "I'd still like to see it as a time when players go to play for their international teams. These breaks are being seen as the 10-day break that players don't always get during the season."
Ferguson countered on Friday: "Look at the opposite side. International football interferes with the clubs' ambitions.
"It doesn't matter what way you look at it. Club managers are always in disagreement with international football, particularly in friendly situations."
His counterpart at Manchester City, Roberto Mancini, felt that a break in the domestic fixture programme during winter would benefit both clubs and national teams.
"I think that in England you need to have a break in December for the national team because we play a lot of games," said Mancini.
"The moment that they decide to give players one week off in December it will be good for the teams and national team."
QPR manager Harry Redknapp feels Hodgson does not have much of a case to argue when it comes to clubs resting players.
"I don't know what Roy is saying there," he said. "International friendlies are quite often meaningless games.
"Roy's been a club manager and I'm sure when there was a break he was only too pleased to have a day or two's rest to give the players a rest or take them away to train.
"Roy's entitled to his opinion, but most clubs take the chance to get away and have a change of environment."