Reading intern job called 'unfair' and 'out of reach'
Last updated on .From the section Football114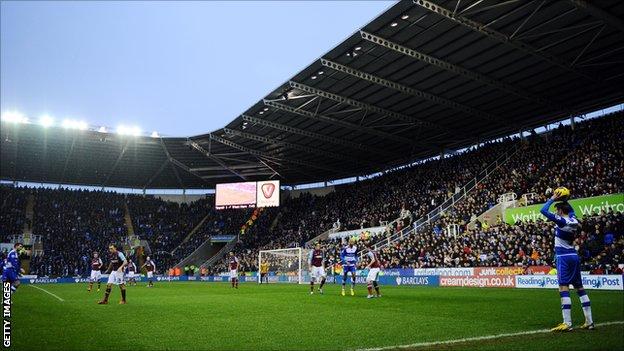 Reading have been criticised for seeking to appoint a full-time postgraduate performance analyst who will not be paid or receive expenses.
Gus Baker from Intern Aware, which campaigns for paid internships, said the position was "unfair" and added: "This damages the image of the club."
In a statement, the Royals said the role represented a great opportunity.
Reading are owned by Russian businessman Anton Zingarevich who bought the club for £25m from Sir John Madejski.
The team won promotion to the Premier League last season, with sports economist Rob Wilson estimating that the club could earn around £90m from the achievement.
And Baker says young people who cannot afford to work for free are being "written off" by clubs such as the Royals.
"Reading are a Premier League club who have millions of pounds and they want someone to work unpaid for free for a year," Baker, who is a co-director at Intern Aware, told BBC South Today.
"That is not just unfair on the person who takes the role but it excludes those who cannot afford to work for Reading for free.
"It is quite an expensive area to live in and to work for a year, doing real work, is out of the financial reach for the vast majority of Reading fans and almost everyone else.
"So we think it is unfair and they should be paying at least the national minimum wage."
Reading said in a statement: "Many young people, however well qualified, find it very hard to obtain their first job because they do not have experience.
"Internships give these youngsters the opportunity to gain practical experience, thus enhancing their job prospects considerably. This season we received countless unsolicited applications for internships and formalising the process has been of great benefit to both sides.
"For many years, a huge number of organisations in all types of sectors have offered internships - for example it was said (in a report by the NCTJ) recently that eight out of 10 new journalists started their career in this manner.
"Companies continue to do so because they give genuine experience in a work environment.
"Indeed, a number of young people with intern experience have gone on to become permanent employees at our club, and another one signed his full time contract just this week."
Former professional footballer Paul Fletcher, now the managing director of the University & College of Football Business, feels internships such as Reading's are highly beneficial.
"They do it at most clubs, it is quite widespread," he revealed. "It may not seem fair but if the person who has taken up the role then goes on to work for the next 40 years in the industry and make a good living, then it is fair."
Of the 10 jobs that are advertised on UK Sport's website offering internships at professional clubs, eight are unpaid while two offer a salary.
But Baker countered: "It may be a great opportunity for someone but [it] might not go to the best person with the best skills. Instead it will go to the person who can afford to work for free.
"It is not just unfair but it damages the reputation of Reading Football Club."
However Fletcher is adamant that the practice of unpaid internships should continue.
"If I had the choice of sending my son to go and work at a Premier League club for free or to stack shelves in a supermarket for 12 months, then I would send him to a Premier League club," he said.