Arsenal Ladies suffer Champions League semi-final setback
By Tony Leighton
Women's football reporter
Last updated on .From the section Football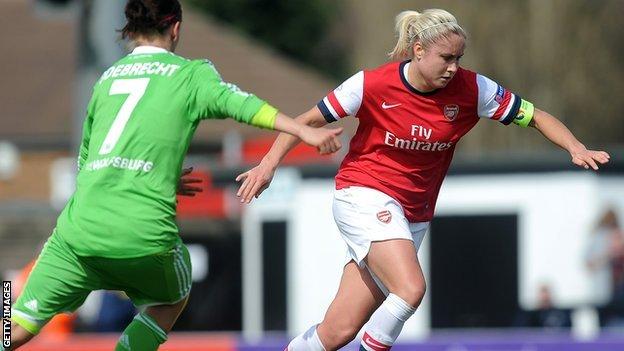 Arsenal face a mighty task to reach the Women's Champions League final after a 2-0 defeat by German team Wolfsburg in the first leg of their semi-final.
The Gunners pressed for long spells but were stung by goals from striker Conny Pohlers and left winger Martina Muller, both against the run of play.
Pohlers volleyed home a 29th-minute opener and Muller tucked in what could prove to be a crucial late second.
Arsenal's Ellen White twice had efforts cleared off the line and hit the bar.
Gunners manager Shelley Kerr was not satisfied with her team's performance.
"Wolfsburg are a strong, physical team and we didn't match them," she said.
"We created three or four good chances, and if we had got a goal that could have changed the picture.
"But we can play better than that and it's a big ask now to get the goals we need.
"But this team has shown in the past that they can score away from home, and we'll go into the second leg believing we can get through to the final."
A Borehamwood crowd of 1,406 watched Arsenal start slowly, but they picked up and went close through winger Gemma Davison and midfielder Kim Little.
They went behind, though, when Pohlers hit a sweet volley into the net from a cross by winger Anna Blasse.
Arsenal hit straight back and six minutes later White had a close-range shot hacked clear by right-back Luisa Wensing.
The home side then had the better of the second half and White was unlucky with a 72nd-minute header that bounced off the bar.
And the striker was denied by Wensing again when the defender headed clear from her 75th-minute header.
The home team's frustration was complete when Muller scored from 10 yards from another Blasse cross.
The result was cruel on the Gunners despite Kerr's verdict on their performance.
Wolfsburg manager Ralf Kellermann took a different view.
"We started well," he said, "but when we scored our second goal our backs were against the wall and in the end we were a bit fortunate.
"We will be expecting a difficult second leg and we are certainly not thinking of the final yet."