Cardiff City's promotion in our hands, says Malky Mackay
Last updated on .From the section Football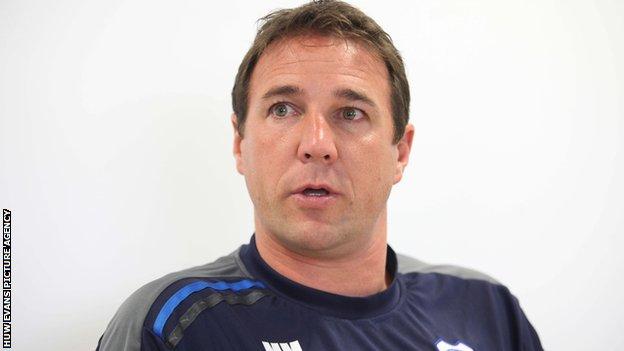 Malky Mackay admits Cardiff City's destiny is in their own hands as they bid for Premier League promotion.
The Bluebirds host Nottingham Forest at the Cardiff City Stadium on Saturday.
City have been top of Championship for the last 20 weeks and and have a six-point lead with five games to go.
"Ask any team in this division, with five games to go, would they swap position with us and they would," said Mackay.
"Given that you could still lose the league with five to go, but you don't have to count on other things to happen at this stage to get the prize we want to give everyone."
Cardiff's 0-0 draw away to fellow promotion rivals Watford on Saturday took them a step nearer to promotion.
But the Welsh side have been in a similar position before, having reached the Championship play-offs for the last three seasons, but ultimately missing out on promotion to the Premier League.
Cardiff have never played in the Premier League and the last time they were in English Football's top flight was when they were in the old First Division in 1962.
Now City find themselves six points ahead of second-placed Hull City and nine points ahead of Watford in third place.
Cardiff cannot secure promotion on Saturday, but if they beat Forest and Watford lose, it would leave them on the brink.
They would need only one more point to secure promotion and possible promotion party when they face Charlton at home on Tuesday, 16 April.
But Mackay refuses to get carried away and wants his side to keep the wins coming.
"I want us to win every game we play," said Mackay.
"We have five to go and I want us to finish unbeaten and get as many wins as we can.
"We just have to keep chopping games off and gaining points and my focus is on my team and I don't care about any other team in this division."
Cardiff's last five games of the season are against Nottingham Forest, Charlton, Burnley, Bolton and Hull City.
Mackay believes his players are "calm" and "focussed" on the job in hand as the season comes to its climax and the likelihood of them making history.
"We have a calm group of players who know exactly what is ahead of them," said Mackay.
"They are just doing their day-to-day and being good professionals recovering and preparing for the games.
"We have four games in ten days, which isn't ideal but is the way it is, and our minds are focussed on recovery.
"It's about being ready to take on the information for the new game. It's just a normal week."