Zinedine Zidane: Ex-France international helps wife's team
By Richard Padula
BBC World Service Sport
Last updated on .From the section Football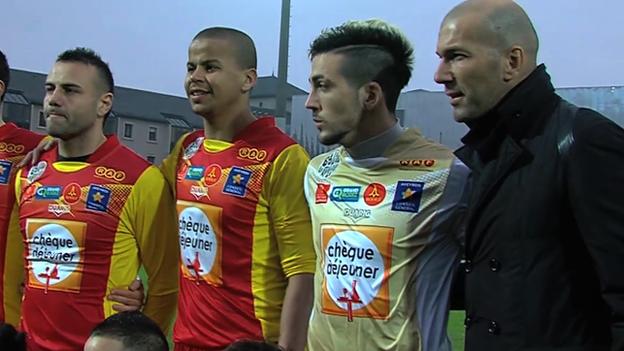 One of the greatest players of his generation, former France international Zinedine Zidane has set himself a new challenge - trying to save his wife's local football team.
Zidane, 40, who retired in 2006, was arguably one of the most exciting players of his generation. The midfielder won league titles and European trophies with Juventus and Real Madrid, while he helped France to victory at the 1998 World Cup and Euro 2000.
Zidane is currently director of football at Real Madrid but time spent with the family of his wife, former model and dancer Veronique Fernandez-Lentisco, has presented him with another opportunity.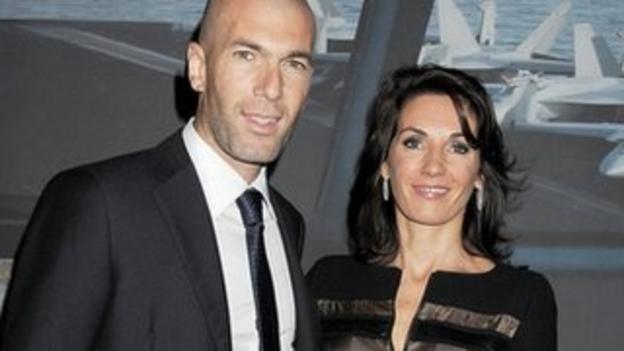 Rodez Aveyron FC, from the south west of France, play in the French fourth division.
When the club's owners realised Zidane was spending time in the area at his in-laws, they plucked up the courage to see the star and ask him to help their financially troubled club.
And, as Zidane told the BBC's World Football programme, he was more than happy to come on board as an investor.
"Some people came to see me about their ambitions for Rodez football club and it seemed interesting. Things needed to be done and I wanted to help out," said Zidane.
"I come from the streets, a difficult neighbourhood. I have never forgotten my roots. It's not because you work for the biggest club in the world that you forget everything beforehand. It's thanks to my in-laws that I have discovered this club and family. I love this region and spending time here and I feel at home".
Like many clubs in the lower leagues across Europe Rodez, has been hit hard by the tough economic times.
"We had serious financial difficulties because we are in a region which is not very well developed economically," said the club's president Jean Francois, "so we have few financial sponsors and the local Government gives us less and less money.
"With budget cuts the club fell from the third to the fourth division. Some of our players were on three-year contracts that we were forced to keep, so our club went into debt."
Neither Zidane nor Rodez FC will say how much exactly the former World Player of the Year is contributing financially, but the club believes his pledge to turn up frequently will encourage sponsors, keen to share space with the French legend.
Rodez once played in the second division and Zidane says he is not investing time and money here for charity. He wants a return on his money and he wants results soon.
He added: "Why not try and get back into the second division one day? That means everyone has to work hard and put in resources that are needed. Lots of things are needed but it's up to us, including me now that I'm on board, to pull together."
Zidane says he will get updates on how the team is doing from his father-in-law.
As well as being Real Madrid's director of football, he is also studying part-time to get a coaching qualification and won't rule out one day even coaching in England.
"It's not planned but why not? Yes or no maybe, we will see," he said.