Peter Ndlovu acquitted of culpable homicide in crash trial
By Steve Vickers
BBC Sport, Harare
Last updated on .From the section Football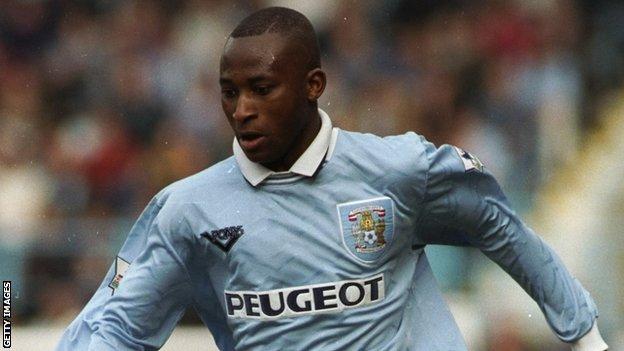 Former Zimbabwe captain and Coventry City winger Peter Ndlovu has been acquitted of charges of culpable homicide in a trial that ended on Friday in Victoria Falls.
Ndlovu's brother Adam and female passenger Nomqhele Tshili died in an accident last December when the car that Peter was driving veered off the road and uprooted two trees near Victoria Falls town.
After the not guilty verdict was announced, Ndlovu broke down and cried.
"There was not enough evidence for the case to stand up," Ndlovu's lawyer Harrison Nkomo told BBC Sport.
"It's a closed chapter now, and people have to move on with their lives."
The accident left Ndlovu in a critical condition, and he suffered head, leg and internal injuries in the crash.
But he was well enough to travel with the Zimbabwe team for a World Cup qualifier in Egypt last month to continue in his post as national team assistant coach.
Ndlovu, 39, played in England for 13 seasons from 1991, for Coventry City, Birmingham City, Huddersfield Town and Sheffield United.
He made 100 appearances for Zimbabwe, captaining the Warriors at the 2004 and 2006 editions of the Africa Cup of Nations.