Celtic boss hits back at Mark Wotte over youth development
Last updated on .From the section Football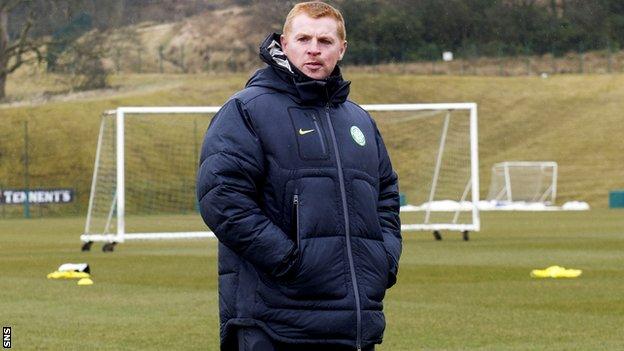 Celtic manager Neil Lennon sent a stinging riposte to the Scottish Football Association's Mark Wotte.
SFA performance director Wotte reportedly criticised Lennon for blasting Scotland's youth development.
However, the Celtic boss claimed the Dutchman misinterpreted his comments.
"I wasn't talking about the SFA," said Lennon. "I was talking about the academy system in Britain. He needs to look at the quotes before he gets a little insecure and paranoid."
Following Scotland's defeats to Wales and Serbia in March, Lennon questioned the hunger of modern footballers and lamented how the national team did not have the quality he felt it had 20 or 30 years ago.
Wotte suggested that Scotland needs better facilities to produce players due to the harsh weather conditions.
Lennon rebuffed that, too, saying: "I take umbrage on the point with facilities.
"He [Wotte] was saying that we get four months of rain and snow. We've been having that here for 200 years, but 25 or 30 years ago we were producing [Danny] McGrain, [Kenny] Dalglish, [Gary] McAllister and [John] Collins.
"My point is, why are we not producing those players now?"
Another point Wotte questioned was in relation to Lennon's suggestion that managers, ex-players and youth development specialists, should be called in to design a better football template.
The Dutchman, a former Southampton manager, said he was stunned that Lennon did not know Celtic's head of youth, Chris McCart, was already part of a performance panel to give feedback on the Scottish game.
Lennon added: "When I was talking about a panel of people, I was talking about the game in general, not the SFA.
"I'm well aware that Chris McCart is on a panel working with Mark.
"I don't need educated on the Scottish game; I've been in the game here 13 years at the top end.
"And I certainly don't need to know what's going on at my club because I know it from top to bottom, so maybe Mark should've picked up the phone."