David Moyes: Everton team 'ageing' and needs rebuilding
Last updated on .From the section Football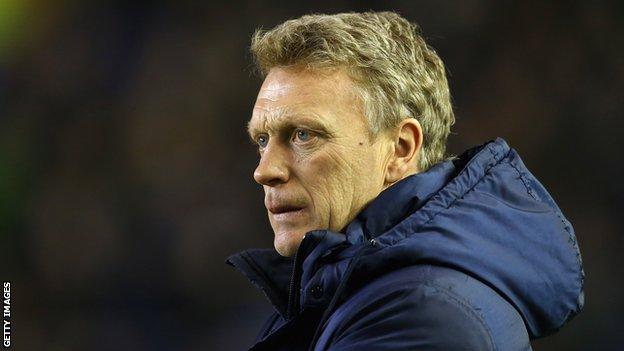 David Moyes says there is a big rebuilding job needed at Everton to add younger players to his "ageing team".
And manager Moyes thinks at least five new players will be needed if European football is secured for next season.
"I do think there is a big rebuilding job to go on. We have a little bit of an ageing team," he said.
Moyes, who is out of contract at the end of the season, admits the impending departure of veteran Phil Neville has highlighted the task ahead for the club to remain competitive.
Former England international Neville, 36, revealed on Tuesday he would be leaving Goodison Park at the end of the season to prolong his playing career.
"With Phil going, that is a big piece of the jigsaw which will leave and, if we make Europe, we are going to have to find a way of bringing in five or six players because of the way your squad is affected," said Moyes.
"We have not invested an awful lot over the last five or six years so we have to now be looking to see how we do that, how we get the team moving forward and get some younger players in as well as developing our own.
"That is the hard bit. We have a few players in their 30s and we have to start looking to replace them but supporters also want us to continue playing at the top of the league.
"It is a tough act for us at the moment because we are trying to get that balance of keeping up at the top end of the league and obviously having to try to change over the age group of players we have."
Moyes admits he would have liked to have kept Neville, who will have a coaching role with England Under-21s at this summer's European Championship, at Goodison beyond the summer.
"If Phil wanted to stay I would certainly be delighted to have him on the staff because he has a great feel around the players and understands the game very well but he is hoping to play a bit longer," he said.
"He has been great for Everton, a terrific player and captain and someone who we will greatly miss because his influence around the club is really special."