Sir Alex Ferguson dismisses Roberto Mancini's 'fear' claims
Last updated on .From the section Football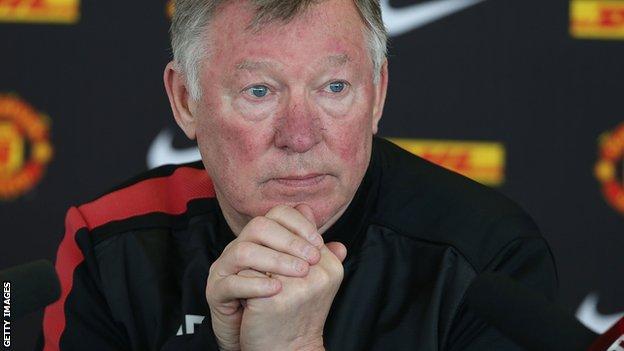 Manchester United boss Sir Alex Ferguson has dismissed Roberto Mancini's claims that other teams lack the belief to beat United.
The Manchester City manager suggested that United's lead at the top of the Premier League was because their opponents "play with fear".
But Ferguson called the claims "nonsense" and added Mancini was "maybe looking for a bit of self-sympathy".
"We all recognise the English game is the most honest in the world," he said.
In 1996, Ferguson suggested other teams might not try as hard against title rivals Newcastle as against his side, leading the Magpies' then-manager Kevin Keegan to air his famous "I would love it" rant in response.
But speaking on Friday, Ferguson added, "There are a lot of games I've watched this season, when I've said to myself 'are they trying?' - of course they're trying.
"These teams have 3,000 fans following them away from home. There is no way they could come to Old Trafford and not do their best. That also applies itself to the Etihad, Stamford Bridge, the Emirates or Anfield."
Ferguson also questioned why City and Chelsea have scheduled two post-season games in May.
United's Premier League rivals will travel to the United States to play each other in St Louis on 23 May, and then in New York two days later.
"I was surprised to see they were playing two games," said Ferguson.
"It can only be because of whatever financial gains they're getting out of it. They're the two richest clubs too. They must need the money.
"I wouldn't do it, I must admit. Players need to get their rest at the end of the season."
Mancini also appeared to query his club's decision to commit to the two post-season fixtures.
"Usually I don't like this because when we finish the season it is finished," said Mancini.
"The players need to go home for one week because afterwards they should go with national team.
"It is not for me. We go to play two games for the club because it is important - but I don't like to go (on tour) after the championship."