Ross County: Roy MacGregor still has concerns about restructure

Last updated on .From the section Football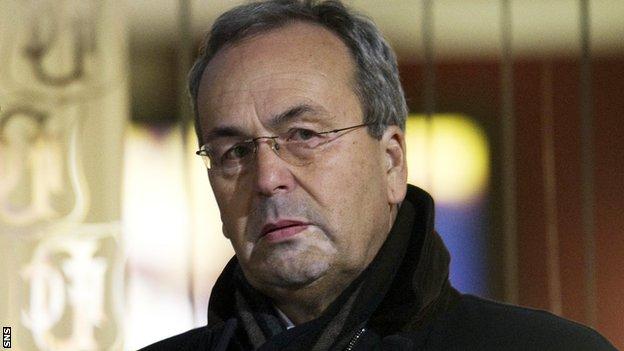 Ross County chairman Roy MacGregor still hopes compromise can be reached at Monday's Scottish Premier League meeting to vote on league reconstruction.
County's board met on Friday to decide how they would vote on the issue.
MacGregor told BBC Scotland: "I'm not going to say what decision we've reached until I tell the meeting on Monday, that's only fair.
"I'm an optimist though and I don't we see why we can't compromise."
MacGregor is an opponent of the plan to split into three leagues of eight and is concerned about the impact it could have on his season ticket customers
"I have to balance the interests of fans, shareholders and the long term future of the game," he said.
"I don't see why we can't take the good bits from the proposals. My big concern is for the First Division clubs, because I know what it's like to be there.
"There is a lot of good in the current proposals, and I don't see why we can't distribute a fairer share of the money now to the First Division.
"I would do that right now. And I think most fans would be happy to accept a play off place along with the one up one down."
SPL clubs are due to vote on the 12-12-18 proposal at Hampden on Monday, with an 11-1 majority needed to carry the plan.
Hearts, Aberdeen, Inverness CT, Motherwell, St Johnstone, Dundee, Dundee Utd and Celtic are already expected to vote in favour of proposals to change Scotland's league structure in time for next season.
St Mirren plan to vote against the proposal.
Other features of the proposals include a revised financial distribution model and the merging of the SPL and SFL, with the Scottish Football Association having also been heavily involved in the protracted discussions.
But, if SPL clubs do not vote it through, it is likely the current make-up of 12-10-10-10 will continue for next season.