Caf rejects Heartland Confederation Cup appeal
Last updated on .From the section Football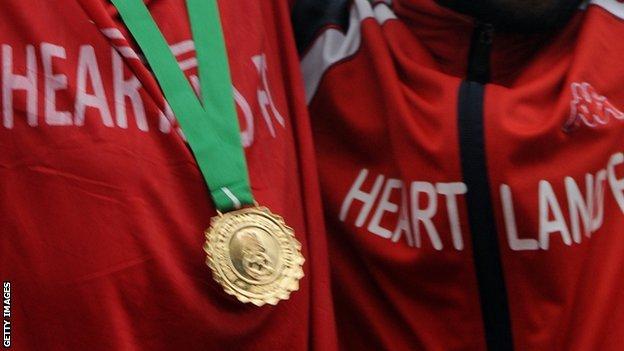 The Nigerian club Heartland have failed in their bid to overturn a decision awarding the Confederation Cup first-round tie to US Bitam on a walkover.
Heartland appealed to the Confederation of African Football (Caf) after Bitam were awarded the win because the Nigerian side were registered as "absent" at the time of kick-off for the second leg in Gabon.
Heartland, who were leading 2-1 from the first leg in Nigeria, claim they had difficulties travelling to Gabon for the fixture.
The Nigerian side only departed for the match on Saturday 6 April an hour before the game was due to kick off.
They claim visa and flight hitches forced them to leave Lagos late.
Heartland continued with their travel plans expecting the game to be played on Sunday in the interests of fairplay but say there was no one from the Gabon FA or US Bitam to greet when they arrived.
At the time, Heartland spokesman Cajetan Nkwopara told BBC Sport they hoped the walkover decision would be overturned by Caf.
Caf have confirmed that they have rejected that appeal.
"The Caf Inter-clubs Committee considered that the absence of the team from Nigeria was mainly the responsibility of the club Heartland, rather than a case of force majeure," Caf have written on their website, citing article 16 of the competition regulations.
'If for any reason whatsoever, a team withdraws from the competition or does not report for a match - except in case of force majeure accepted by the Organising Committee - or if it refuses to play or leaves the ground before the regular end of the match without the permission of the referee, it shall be considered loser and shall be eliminated from the competition,' the statement goes on to add.
Heartland are therefore eliminated from the competition but Caf say the club will not face further sanctions.
US Bitam progress and will meet USM Algiers in the next round.