FA Cup: Millwall manager Kenny Jackett sorry for fighting
Last updated on .From the section Football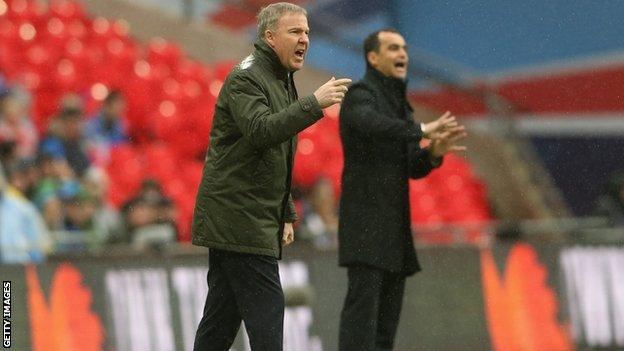 Millwall boss Kenny Jackett apologised for the behaviour of some of the club's fans after fighting marred their 2-0 FA Cup semi-final defeat by Wigan.
Scuffles broke out in Millwall's end in the closing stages and the Football Association is investigating.
Speaking immediately after the game, Jackett was unaware of the incidents.
But television pictures showed a young girl crying following the trouble and Jackett said: "I'm very, very sorry if that's the case."
Jackett stressed that the Londoners are determined to stop their fans causing trouble.
"We are trying to progress. We want to try very hard to keep the momentum of the club going forward," Jackett said.
"[The violence] will hold us back as we are trying to find the equation to keep the momentum going forward on the pitch. That will hold us back if it happens repeatedly.
"We have worked very hard. The chief executive and the board of directors have worked very, very hard to do everything possible to make us trouble free. We have had many, many high-profile games where things have gone very well.
"Our work in the community and the work of our players in the community is considerable. We are doing everything possible to continue this and to help the profile of the club in the south London community."