Rangers: Ally McCoist glad about Charles Green investigation
Last updated on .From the section Football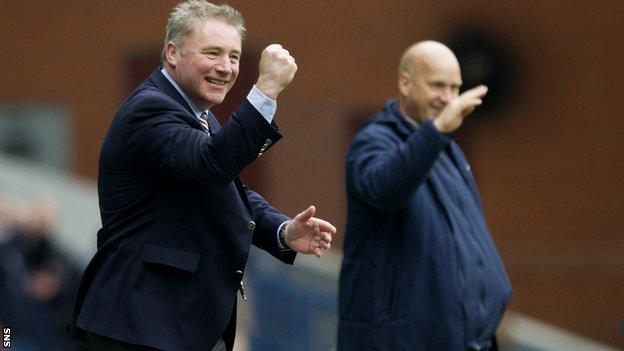 Manager Ally McCoist has welcomed the Rangers board's decision to commission an investigation into the behaviour of chief executive Charles Green.
McCoist believes it will bring much-needed clarity for Rangers fans on what is going on behind the scenes at Ibrox.
"I'm delighted with the statement," he said.
"The board have said they are going to appoint an independent commission to look into matters, which is the very least our fans deserve."
Rangers' board held a special meeting ahead of the 2-0 home win against Clyde following allegations about Green and commercial director Imran Ahmad's links with former owner Craig Whyte.
Whyte has claimed that he still owns Rangers' assets and that Green had agreed to be his front man before the consortium involving the Englishman and Ahmad bought Rangers' assets last year.
The claims have led to the Scottish businessman and Green threatening one another with legal action.
And following Rangers' statement about their intended probe, McCoist said: "I was very well aware of the need and the urgency of the board to get results.
"Knowing one or two of the board members really well, they want an end to this whole scenario.
"I'm really confident in those board members and what they did today and I'm really confident in the future once the commission finds out the results."
Asked whether the supporters are now turning away from Green, McCoist said: "I don't sense that they are turning away from anything or anybody.
"But I do sense, quite rightly, that they are getting a little bit frustrated that the whole thing isn't out in the open, that the truth isn't there for everybody to see - especially the Rangers supporters.
"They deserve the truth. They deserve to know what's been happening behind the scenes at their club.
"I do detect a greater frustration from within them and I do understand it and, I take it a step further, I agree with it."