Champions League: Spain and Germany go head-to-head
By Andy Brassell
European football expert
Last updated on .From the section Football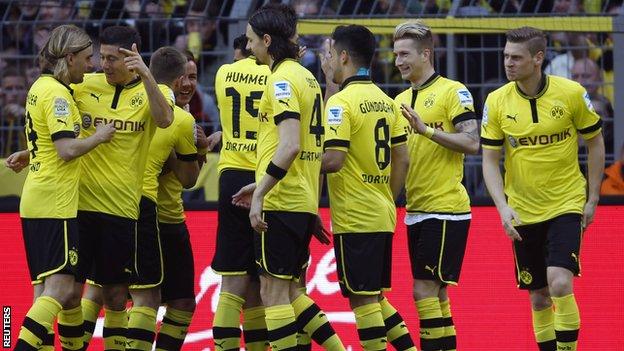 After the Champions League semi-final draw, even the most ardent Premier League fan would be hard-pressed to complain.
Few would argue that this year's last four - Bayern Munich, Barcelona, Borussia Dortmund and Real Madrid - are not the continent's finest at the moment.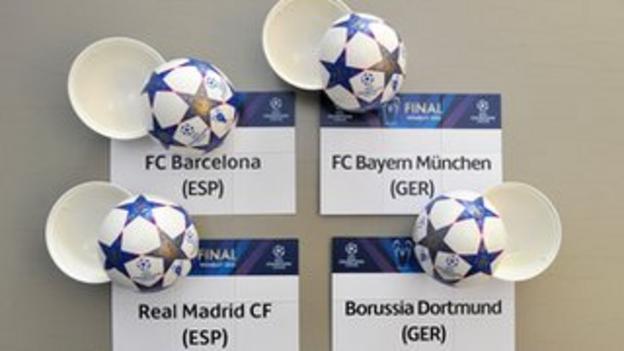 The Bundesliga has become more and more globally popular in recent years, but this is the first time that its elite are coming head-to-head with the two teams generally assumed to be the best in world club football.
Spain and Germany's domestic competitions have long been assumed to be polar opposites. Spain's big two are untouchable, with almost all of the rest of the top flight in financial crisis.
Germany, on the other hand, is seen as a model of sensible financial management - even if this does overlook recent problems at Schalke, for example. Dortmund have been a flagship, winning successive Bundesliga titles with a vibrant team composed mainly of young German players.
This season, La Liga and the Bundesliga have had a little more in common. While Barcelona have streaked clear at the top in Spain, Bayern Munich have even more ruthlessly left the competition behind. Jupp Heynckes' team sealed the title on the first weekend of April, 20 points ahead of champions Dortmund.
Nobody is saying just yet that the Bundesliga has become uncompetitive - one cannot judge trends from only one season's evidence. Yet it seems as if a duopoly is developing in Germany to mirror the Spanish one.
Even if Bayern have reclaimed the German title from Dortmund by a comfortable margin this season, the Munich side have been driven to distraction by the Westfalen side's quality in recent seasons. There is a feeling on both sides that this will be an enduring rivalry.
So we may well be looking at two different models of operation - Barcelona and Real Madrid retain the cream of the world's superstars and run up big debts, while Bayern and Dortmund go for more prudent housekeeping.
Yet we are also seeing European club football's two major sparring partners in action, with the possibility of a reprise of their domestic face-offs at Wembley on 25 May.
Bayern Munich
Quarter-final performance: Many expected Bayern's clash with Italian champions Juventus to be the tightest of all the last-eight ties but Jupp Heynckes' side were ruthless, winning 2-0 both home and away - and they were every bit as superior to their opponents as the scoreline suggests.
Historical high point: The 1976 final win over Saint Etienne at Hampden Park, which made Bayern only the third club to become European champions in three successive years. Franz Roth, who scored the winner in a 1-0 victory, had also scored the opener against Leeds at the Parc des Princes in the previous year's final.
Strengths: Their incredible strength in depth. Bayern have arguably the strongest squad in world club football, with even Germany striker Mario Gomez and Arjen Robben having to bide their time on the bench for much of this campaign.
Weaknesses: Bayern don't have many, but there is concern about their sometimes-lax defending from set-pieces - something which Arsenal took advantage of, to near-fatal effect, in the last 16.
Barcelona
Quarter-final performance: Barca didn't quite hit the heights in an edgy away goals win over an impressive Paris Saint-Germain. In the end, a cameo from a half-fit Lionel Messi in the Camp Nou second leg was needed. He created the clinching goal for Pedro.
Historical high point: It seems remarkable that Barcelona were never crowned European champions before 1992, but it took Ronald Koeman's extra-time winner against Sampdoria at Wembley that year to break the duck. Barca returned to the famous old stadium to win their fourth, against Manchester United, in 2011.
Strengths: They have a stronger collective identity than any other team on the planet - everybody knows how Barcelona play, and their players have a total belief in their possession-based system. It has allowed them to maintain their push for honours during head coach Tito Vilanova's absences through serious illness.
Weaknesses: An unavoidable over-reliance on their main man Lionel Messi, which has given birth to a new Spanish noun - Messidependencia. In the 105 minutes that he wasn't on the pitch during the quarter-final, PSG scored three to Barcelona's one.
Borussia Dortmund
Quarter-final performance: Dortmund snatched qualification in the most dramatic fashion, with two stoppage-time goals improbably knocking out Malaga. Coach Jurgen Klopp expects improvement, however, after what he called "our worst performance in this season's Champions League".
Historical high point: Their one Champions League title was a memorable one, beating a star-studded Juventus (including Zinedine Zidane and Alessandro Del Piero) in the 1997 final. Former Liverpool forward Karl-Heinz Riedle scored a first-half double before Lars Ricken's outrageous chip sealed matters.
Strengths: The borderline-telepathic relationship between forwards Mario Gotze and Marco Reus. Both can create, score and see angles that others can't. The versatile centre-forward Robert Lewandowski is the perfect foil for them.
Weaknesses: Klopp's side have mostly cut out the defensive errors that put the skids under last year's return to the Champions League, but have had their moments this season. The lack of cover at full-back, should Lukas Piszczek or Marcel Schmelzer be unavailable, is a concern.
Real Madrid
Quarter-final performance: It was tighter than expected for Jose Mourinho's side. After sweeping to a 3-0 win over Galatasaray at the Bernabeu, a trio of goals in 15 second-half minutes during the Istanbul return made Real sweat before Cristiano Ronaldo's stoppage-time goal clinched a 5-3 aggregate win.
Historical high point: Los Merengues' seventh title, in 1998, scratched an interminable itch. Before Predrag Mijatovic's goal secured a win over Juventus in Amsterdam, El Real had gone 32 years without winning the cup with the big ears.
Strengths: The way they counter-attack. Building their game around Cristiano Ronaldo's power and pace, they have Fabio Coentrao to support from full-back and Sami Khedira to charge forward from midfield too.
Weaknesses: The doubt over who should play at centre-forward. Karim Benzema's below-par form means Gonzalo Higuain currently has the edge - even though the Argentine has a far inferior Champions League record to the Frenchman.