Celtic chief executive Peter Lawwell backs 12-12-18 plans
Last updated on .From the section Football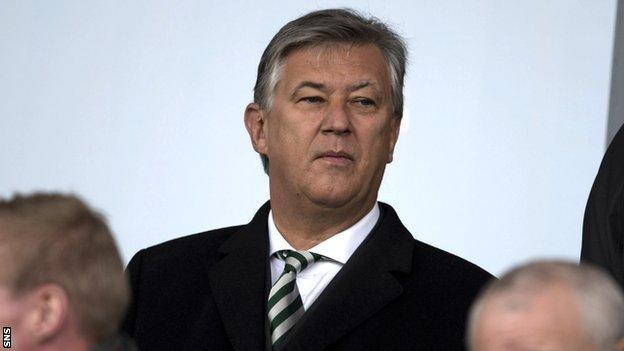 Celtic chief executive Peter Lawwell has said the club will back Scottish Premier League reconstruction plans.
Top fligt clubs will meet on Monday to vote on a 12-12-18 model, with an 11-1 majority required for approval.
However, St Mirren have said they will vote against the move, with
"We are coming to the end of the process and it's either change or the status quo," Lawwell told Celtic's official website.
"When you look across over the wall, if it doesn't happen, then what is the flip side? And the flip side is it stays the same. That, to me, is not palatable.
"From Celtic's point of view, come Monday night if it doesn't go through, we'll be disappointed because we put a lot of work into it and we see it as the right thing for the game.
"It would be unfortunate for the longer term interests of the whole game in Scotland as it would be a huge opportunity lost."
Lawwell stated he was disappointed at St Mirren chairman Stewart Gilmour's decision not to back the proposed changes.
"We're disappointed there appears to be some positions changed in recent weeks but we respect the right of every club to have their own vote," he said.
"We believe in the voting structure for the protected items because these are huge decisions with huge implications.
"We respect the fact they have to do what is right for them but we have to take into account what is right for Scottish football."
The Celtic chief executive also claimed the changes would bring greater stability to the game in Scotland, with Scottish Football League clubs also due to vote on the proposals.
"We think it is right for the game," added Lawwell. "It's not perfect but it's the best available.
"It gives the one [governing league] body which is a positive. It gives redistribution to the SFL which actually transforms, financially, the majority of the SFL clubs.
"And it also provides more meaningful games.
"The last three times we went to St Mirren there were 6,000 there. Nine thousand were at the Ramsdens Cup final, so too at Partick Thistle against Morton, and St Mirren also took about 17,000 to Hampden [for the Scottish Communities League Cup final].
"When there is something to play for, when there are meaningful games, the fans come out.
"If we get two or three years' stability it gives the league credibility and something back to our broadcasters and sponsors.
"In football, stability is everything."