Paolo Di Canio becomes instant Sunderland hero
By Alistair Magowan
BBC Sport at St James' Park
Last updated on .From the section Football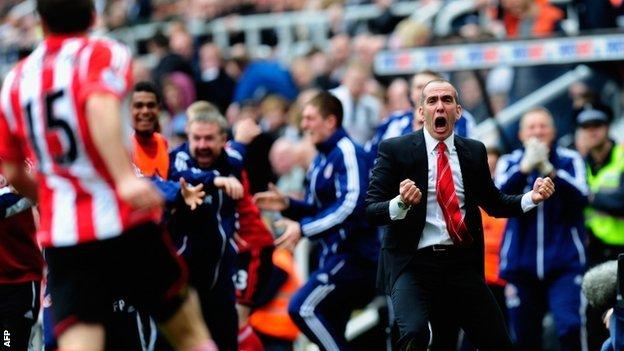 Sunderland will be happy to fork out for Paolo Di Canio's laundry bills if he steers the club away from Premier League relegation.
Di Canio may have ruined his trousers by sliding on his knees during the Black Cats' 3-0 win against fierce rivals Newcastle - their first victory at St James' Park in 13 years - but buying the Italian another suit will be a small price to pay if his side avoid the drop.
When David Vaughan scored Sunderland's third goal, Di Canio turned to face the home supporters to revel in what he would later call "the biggest win" of his career.
Having sprinted down the touchline after Stephane Sessegnon's opener and stained his suit in lauding Adam Johnson's second, it was anyone's guess what was to come next.
Di Canio has never been one to duck controversy, but when he stood, arms aloft, shaking his fists in sheer delight, he was - he explained afterwards - paying tribute to the Sunderland board members who took a risk on him when he replaced Martin O'Neill this month.
With their team overrun, the image understandably caused an angry reaction among the Newcastle fans, who were not more than 30 yards away from the 41-year-old.
Yet it showed that whatever the view is on Di Canio, and many have been spouted forth since the former Swindon boss joined the Premier League, he still had a clear mind despite his apparently agitated appearance.
"When I fell down to my knees it was in the [Sunderland] fans' direction; it wasn't provocation to others," he said.
"And then when I turned to face the dugout, it was towards the board because I feel high responsibility for this club because you all know what happened last week."
Di Canio was referring to the gamble the Sunderland owners took in employing a manager, who, while playing for Italian side Lazio, declared his allegiance with fascism.
The club insisted at his opening press conference that his beliefs, previously held or not, should be ignored and he should be judged solely on football.
Given such extreme views, it was a major miscalculation, but not in its wildest dreams could Sunderland have dreamed of a performance which would demote Di Canio's politics down the agenda so swiftly.
Under previous boss O'Neill, the Wearsiders had not fashioned a win in eight Premier League games but, perhaps more importantly, the team looked shorn of the verve and vitality usually associated with the Northern Irishman.
That returned in abundance at St James' Park as Di Canio cast aside the doubters who said the former League One boss could not make the step up to the top flight.
This was only one victory in his second game in charge, of course, and Sunderland are still just three points clear of the relegation zone, but the way in which Di Canio energised his side will give them added belief for the five games remaining.
Newcastle boss Alan Pardew was the more animated to begin with as his powerful side took early control. In the deafening noise which swirled around the ground, Di Canio appeared calm and confident despite the occasional moan to his colleagues on the bench.
Yet once Sessegnon struck after 27 minutes, the Sunderland coach came alive.
When his side dropped too deep, he cajoled them to press further forward. When they held on to the ball too long, he urged them to pass with more intensity, displaying his desired rhythm like a conductor with an orchestra.
Di Canio complained that the team he inherited were not as fit as he would have liked, but there was certainly more willingness from his midfielders to support the industrious Danny Graham up front and they tracked back to close down the likes of Newcastle's Moussa Sissoko.
It was a performance that injected freshness into a side which also capitalised on Newcastle's European exertions after they were knocked out of the Europa League by Benfica on Thursday.
Di Canio, though, explained the victory in more simple terms.
"Before the kick-off I believed in [the win] because I saw the face of my mother smiling," he revealed. "On Saturday, it was exactly a year ago that she passed away.
"It's not an accident [that I saw her]. I believe in the energy [it gave me]. A year ago, I was in the dugout a day after she passed away and we won. And today it happened again. My dedication goes to her today."
He may not be to everyone's tastes, but in football terms Di Canio is already providing a dynamism and a charm which Sunderland's board, players and fans can easily fall for.
And the sense of togetherness that victory at Newcastle brings could be enough to ensure he gets another chance in the Premier League next season to prove it was no fluke.