FA Cup: Chelsea's Rafael Benitez irked as 'clear penalty' not given

By Phil McNulty
Chief football writer at Wembley
Last updated on .From the section Football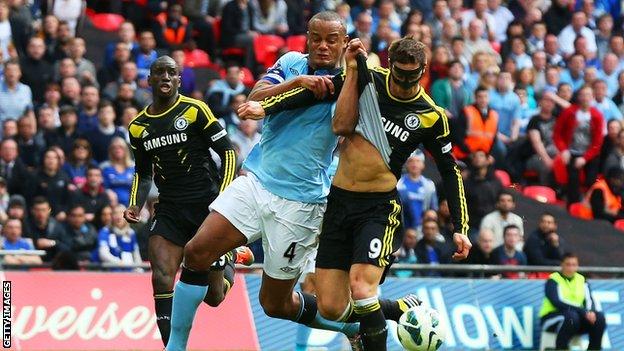 Chelsea interim manager Rafael Benitez believes referee Chris Foy's failure to award a late penalty cost them the chance to salvage the FA Cup semi-final against Manchester City at Wembley.
City captain Vincent Kompany pulled at Fernando Torres's shirt as Chelsea chased an equaliser in their 2-1 loss.
City will now meet Wigan Athletic in the final in May and Benitez said: "It was a clear penalty not given.
"It could have been a red for Kompany and could have made a big difference."
He added: "The consequences were it could have been a red card, could have been a goal for us and could have changed the game."
Benitez refused to condemn City striker Sergio Aguero after his two-footed touchline lunge on David Luiz went unpunished.
"I don't like to point at players," said Benitez. "The main one for me is the penalty that was not given. This was important.
"It is not a question for me why the penalty was not given. It is a question for the referee."
Benitez admitted Chelsea paid for a sluggish start that saw impressive City go into a two-goal lead courtesy of Samir Nasri and Aguero before Demba Ba's brilliant finish set up a frantic finale.
He insisted their hectic recent schedule had not caught up with them, saying: "Not really because you can't explain how we finished so strongly.
"You have to give credit to Manchester City. They are a strong team physically and technically who have players at the back, in the middle and up front who can make a difference.
"We have to give credit to them but those decisions could make a big difference. I said before this game we wanted to go through in two cup competitions and finish in the top three or four in the league.
"Now it is exactly the same but in one cup competition.
"Our game against Fulham this week will be massive and we know we have to be physically and mentally ready."