Nine players fail age-test scans at African U-17 tournament
Last updated on .From the section Football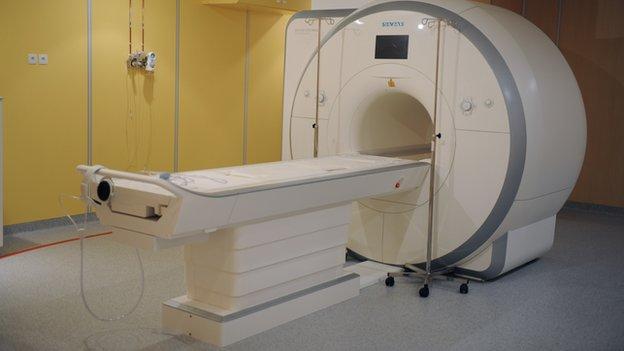 Nine players have been kicked out of the African Under-17 Championship in Morocco after wrist scans showed them to be over the age limit.
Three players each from Congo-Brazzaville, Ivory Coast and Nigeria have been banned from playing any further part in the competition.
Magnetic Resonance Imaging (MRI) was used to scan the wrist plate of players to accurately ascertain their true age.
Birth certificates are often either inaccurate or unavailable.
The players to have been excluded are Congo's Cherlevy-Diabala Carim, Hardy Binguila and Bermagin Kangou, Ivory Coast's Dagou Britto, Abdul Diarrassouba and Siriki Dembele, and Nigeria's Onyinye Ndidi, Ibrahim Abdullahi and Emmanuel Asadu.
All three countries' squads have been reduced to 18 players.
After Congo and Ivory Coast played out a 1-1 draw in their opening match in the tournament, both coaches reacted to the loss of their players - each taking an opposing view of how their teams would be affected.
Congo coach Basile Ekariki said: "The absence of three players dropped after the MRI test does not affect us too much. The players are almost all from our national training centre and therefore used to play together. This is really a united group with lot of solidarity among all.
But Ivory Coast coach Ibrahim Kamara admitted: "There is no doubt that the failure of three players at MRI test is going to affect our side but we're here to build on our good run in this competition."
Football's world governing body, Fifa, first began researching the use of MRI technology in 2003 but only started to conduct tests at the U-19 World Cup in Nigeria.
Results from U-17 World Cups in 2003, 2005 and 2007 revealed that up to 35% of players were over-age.