Plymouth Argyle: Guy Branston critical of Jason Banton
Last updated on .From the section Football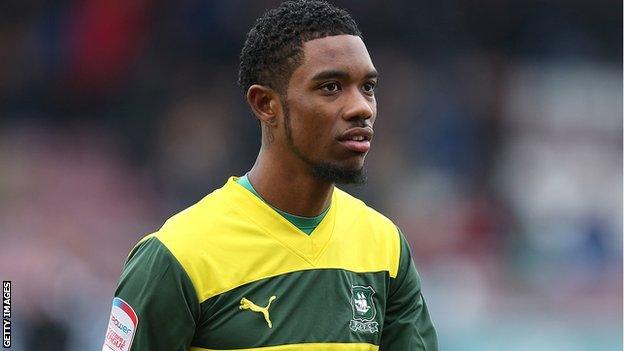 Plymouth Argyle defender Guy Branston says the club will not miss winger Jason Banton after he was recalled by Crystal Palace.
Banton, 20, played his final game on loan in the and his six goals in 14 games helped Plymouth climb off the bottom of League Two.
But Branson told BBC Radio Devon: "Honestly, we needed it more from him.
"We got flashes once or twice in the game and obviously he can cause problems when he has those flashes."
Branson added: "If his work rate improves he'll play in the Championship or League One, and if he works hard at his game he could even stroke the Premiership with his ability.
"But it's about getting Jason Banton to believe in his ability. We saw flashes of it in training, but not enough."
Former Liverpool, Arsenal, Tottenham and Blackburn youngster Banton after returning to England from the USA earlier in the season.
And Branston says there are players in the Argyle squad who are just as good as the youngster.
He insisted: "We've got players who can come and fit in. I'm not going to lose sleep when he's gone.
"Joe Bryan's better than him; more consistent, works hard, willing to do the donkey work but also willing to go forward.
"But I think we've got players who can slip in there and get on with his job. He's not much of a loss.
"From the flashes of brilliance we've seen, fair play - he deserves his opportunity in the Championship.
"I can't praise his attitude enough when he was here, I just wish he ran around a bit more."