Casper Ankergren happy to move on from Brighton error
Last updated on .From the section Football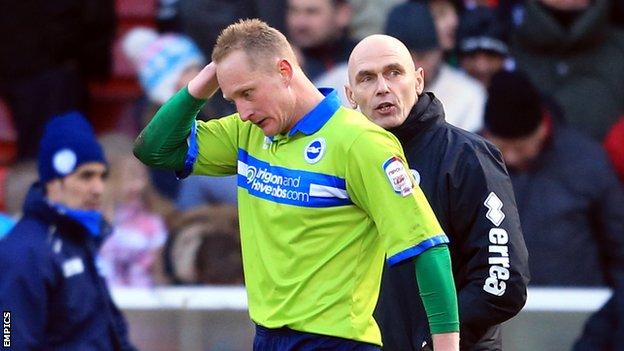 Brighton keeper Casper Ankergren says keeping a clean sheet in their win at Middlesbrough has helped him move on from his error at Nottingham Forest.
The 33-year-old let Henri Lansbury's shot through his legs in second half injury time to allow Forest to snatch a 2-2 draw two weeks ago.
He told BBC Sussex: "It was nice to get it out of the way quite quickly.
"You end up spending a lot of time thinking about it and 'why did it happen to me?'."
He added: "At Nottingham I actually think I played a good game.
"But mostly you are remembered for the mistakes you make and that was obviously a terrible one.
"You can understand if you play a game where you haven't got a lot to do [as] that's sometimes where you can make mistakes.
"In a game where I had plenty to do, that's where it happened for me."
Brighton boss Gus Poyet praised the former Leeds stopper following the 2-0 victory at the Riverside on Saturday.
"I am delighted for Casper," Poyet told BBC Sussex.
"If there was one player I wanted to have a good game, it was him. I am sure he is relieved because things happen and you need to be ready.
"We keep saying 'be ready' as you never know when your chance is going to come again.
"He was more than ready."
Ankergren's inclusion at Middlesbrough was only his fourth first team game since December 2011, with all four of those appearances coming in the current calendar year.
The Dane lost the number one shirt to Peter Brezovan in the second half of last season, while Tomasz Kuszczak has been Poyet's first choice since joining on a free transfer last summer.
Ankergren found out on Friday he would be playing at Middlesbrough after Kuszczak suffered an elbow problem in training.
"It is not always that easy to be called upon 24 hours before," he said.
"You always try and prepare mentally but when you know there is not a big chance of you playing it can be difficult.
"It is definitely better than if Tomasz had travelled and then said he can't play.
"I'm very happy. It is a difficult place to come and a clean sheet is very good.
"I am so pleased for the team. We needed to win away from home and to win at Middlesbrough."