Barrow: Boss Dave Bayliss condemns 'mercenary' players
Last updated on .From the section Football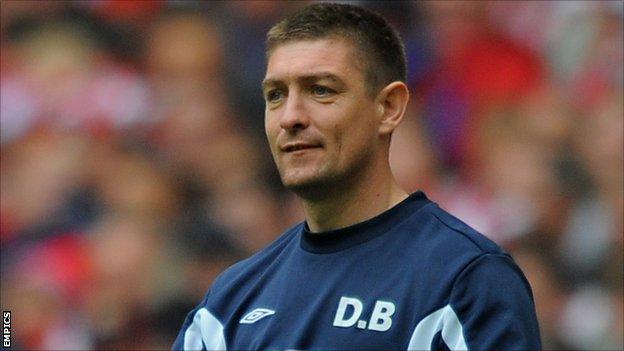 Barrow boss Dave Bayliss has questioned the attitude of some of his players following the club's relegation from Blue Square Bet Premier.
"We've got some mercenaries in there that play football for the wrong reasons," he told BBC Radio Cumbria.
"All they care about is the money at the end of the week and that's really sad. I feel like I've been stabbed in the back by a few of them."
He continued: "It's the best game in the world but they don't look like they actually want to play and enjoy the game.
"I know it's terrible for me to say I've been stabbed in the back, but that's how I feel.
"Whether I should be saying it or not, well, quite honestly I don't care. I just feel let down by certain players."
Barrow have suffered from a drop in attendances this season, with figures hovering around the 800-mark for most of the year.
With crowds likely to decrease further next season, the club are considering reverting to part-time status in an effort to save money.
Club director Tony Keen told BBC Radio Cumbria: "Part-time/full-time has been a myth during all our time in Blue Square Bet Premier.
"We've never paid 52 weeks a year, we pay 40, so if we're talking about going part-time then it's in terms of training, which would reduce the wage bill slightly.
"Yes we have financial issues, but I would stand up to any player who tries to blame performances this season on that. I'd come out and back up exactly what Dave has already said.
"It's tough, but there's no major issue financially. Unfortunately, as a club we've got smaller and smaller these past five years when we needed the complete opposite.
"We'll rebuild and aim to come straight back. We're no different to a team like Reading in the Premier League - we're not quite big enough to consolidate yet."