Middlesbrough boss Tony Mowbray says he will not quit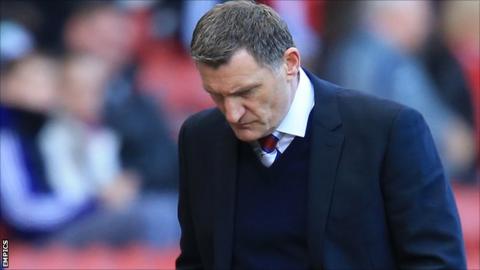 Middlesbrough manager Tony Mowbray says he will not resign despite his side's poor results.
After only two wins in the Championship this calendar year, Boro are six points clear of the drop zone - two closer than they are to the play-offs.
"I'm a fighter, I'm not going to walk away from anything," he told BBC Tees.
"I'll never give in. You'd have to ask the chairman about my future. If he feels someone can come in and do a better job, that's his prerogative."
Saturday's 2-0 home defeat to Brighton was the fifth time in Boro's last six games that they have failed to score.
Of the Championship's top half, only Leeds United have scored fewer than Middlesbrough's 57 goals this season.
"I'm saying the same things every week because it's obvious what the problem is," Mowbray added.
"The boys are working hard but nothing is dropping and we can't score.
"These defeats against Hull and Brighton, were they any better than us? No. But we are not winning football matches.
"I know the fans are angry and upset. They want us in the Premier League. So do I and so does the chairman.
"We're going backwards at the moment and ultimately the chairman will make the big decisions, but I won't quit. Let's see what the summer brings."