Sam Byram: New star emerges from Leeds United's academy
By Paul Fletcher
BBC Sport
Last updated on .From the section Football47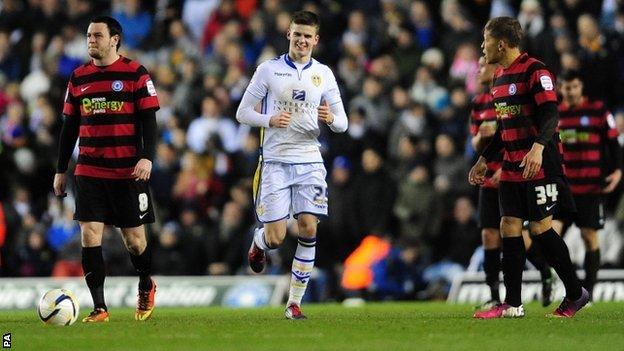 Sam Byram has emerged as a shining light amid the fog of Leeds United's underwhelming and confusing season.
The failure to seriously challenge for promotion to the Premier League, a late-season change of manager, with Brian McDermott replacing Neil Warnock, and the permanent backdrop of uncertainty about the ownership of the club has given supporters little to cheer.
But a welcome contrast has been the emergence of 19-year-old right-back Byram, who has played in every league game and shown the sort of form that recently saw him linked with a £10m move to Manchester City.
"Sam leaving the club is not something that has crossed my agenda," said McDermott, who was appointed manager on 12 April and has won his first two games in charge.
"People can talk about whatever they want, but for me the best place for Sam is Leeds - playing and doing well."
The club's fans would certainly agree. Byram was recently named player of the year by the official supporters club (LUSC).
Byram, a lifelong Leeds fan, joins an illustrious list that includes Norman Hunter, Peter Lorimer Allan Clarke, Gordon Strachan, Gary McAllister and Rio Ferdinand.
The teenage academy product, who was born in Essex but moved north with his family before his first birthday, is expected to win more end-of-season awards and has just been named the Football League Young Player of the Month for March.
It caps a remarkable season for a player who had not made a senior first-team appearance before the start of the current campaign. The scale of his progress can be gauged by the fact that he has agreed two extensions to the initial professional contract he signed last June.
Byram, slight in stature but fast and energetic on the pitch, played in a pre-season friendly against Burton Albion on 7 August. When Warnock, then manager, was asked afterwards whether the youngster would figure regularly over the coming months, he replied: "No, I don't think so."
Warnock explained that he had brought in Lee Peltier from Leicester, his most expensive summer signing, as his first choice right-back.
But it has not worked out like that. Byram has been an ever-present in the Championship. Peltier, who was given the number two shirt, has also been a regular, but not in his specialist position.
In his debut Championship season, Byram has found himself up against the likes of Thomas Ince and Wilfried Zaha, as well as Spurs' Gareth Bale and Aaron Lennon in a famous FA Cup fourth-round triumph, acquitting himself well on each occasion.
"My one-on-one defending has got a lot better," Byram told BBC Sport. "In the Under-18s you don't play against many lightning-quick wingers but since starting in the first team I have done better than I thought I might."
Byram rates Lennon as the toughest opponent he has faced, explaining that the winger's "stupidly fast" change of direction caused him more problems than those posed by the taller, more athletic Bale.
What is especially impressive about Byram is his desire to improve. Young players often talk about their willingness to learn but the speed with which the Leeds youngster can recall his mistakes this season hints at the sincerity of his words.
"Personally I think it is better to be over-critical than brush mistakes aside," said Byram.
"Against Cardiff at home the ball came across the box and I just misjudged it while trying to clear it down the line. I hooked it back into the edge of the area, and [Craig] Bellamy took a shot that deflected to another player who struck into the bottom corner.
"Then I gave a penalty away at Barnsley."
He analyses his performance on video and listens carefully to the staff at Leeds. For example, Neil Redfearn, a key player in Byram's development and now assistant to McDermott, pulled him aside during their last game against Burnley, telling him he was staying out too wide and needed to tuck inside more.
Byram describes his path to the first team as a "strange journey". He started as a midfielder with the Under-9s but after a season he was relegated into the shadow squad. Later he played in a trial game, filling a gap in the centre of defence. He impressed and was bumped back up.
Eventually he shifted to right-back and has played there since the age of 14.
Still it was not plain sailing. After signing a two-year deal as a scholar at 16, he was dropped down for a season to play with the club's Under-16s.
"It did not help my confidence at first but Jonny Howson, now at Norwich, did the same and it helped me a lot, gave me time to develop technically," he said.
Ask about Byram, and nobody - fellow players, members of the staff at Leeds, journalists, the club's supporters, people on Twitter - has a bad word to say about him. It is easy to see why. In conversation, Byram seems thoughtful, easy going and extremely well grounded.
At Leeds' Thorp Arch training ground on Thursday, McDermott insisted that he presented the Football League young player award to Byram in front of the rest of the playing staff. There was loud applause and cheering before Byram sheepishly avoided McDermott's request for a speech.
It was a gesture that said a lot about McDermott's inclusive management style but also Byram's popularity with his team-mates.
Afterwards the youngster had to rush straight off to fulfil a commitment at Elland Road. Byram is a man in demand just about everywhere right now but there is only one thing that matters to him.
"I'm looking to improve, to physically get stronger and faster," he said. "Being in the Premier League with Leeds would be the dream."
BBC Sport will be taking a closer look at stories from outside the Premier League before every weekend league programme in our Football League Friday features.