Stoke City boss Tony Pulis backs Cardiff for Premier League
Last updated on .From the section Football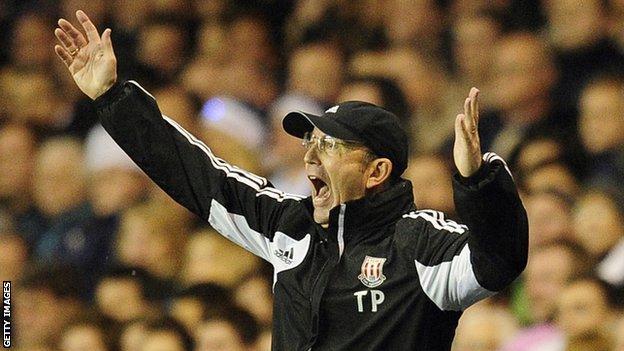 Stoke City manager Tony Pulis is backing Cardiff City to do well in the Premier League if they are promoted.
The Bluebirds need just one point from their four remaining Championship matches to clinch their place in the top flight, starting with Tuesday's home game against Charlton.
And Pulis, the only Welsh manager in the Premier League, reserved special praise for Cardiff boss Malky Mackay.
"Malky's done a fantastic job, you have to give him a lot of credit," he said.
Following their 3-0 win over Nottingham Forest, Cardiff can be promoted on Tuesday even if they lose, provided third-placed Watford fail to win at Millwall.
However, Pulis, who led Stoke City to promotion from the Championship in 2008, believes Cardiff will not need any assistance from other clubs.
"I think they're over the line, they're home and hosed," he told BBC Radio Wales Sport's Monday Night Football programme.
"The Championship is a really, really tough league to get out of because the amount of games you have to play and for them to be so consistent he has to take a lot of credit."
Pulis has kept Stoke in the Premier League for five years and said the Bluebirds have a good chance of establishing themselves in the top flight.
"They've got every chance, if you look at the teams that have been promoted lately, they've done well," added Pulis.
"Look how Swansea have pushed on and established themselves in the Premiership.
"Cardiff have got every chance. It's an enormous football club for me.
"It's an enormous catchment area and fingers crossed he's [Mackay] allowed to bring a few players in, which I'm sure he will, and they'll have enough to make sure they can get a foothold."
And Craig Bellamy's influence will be a key to Cardiff establishing themselves, according to Pulis.
The Cardiff-born striker joined Cardiff from Liverpool to try and fulfil the dream of seeing his hometown club reach the top flight.
"Bellamy's a top top player and he's played a massive part this year," said Pulis.
"Craig will know what the Premier League is about and he'll be a good guiding light for the players who've not played in the Premiership.
"But the other lads have to step up as well. It's about a team - they've been promoted because they've played like a team and have been a team.
"It's not going to be one or two individuals that'll turn water into wine, it's about a team."