Policing football: Infighting fans, TV demands and class A drugs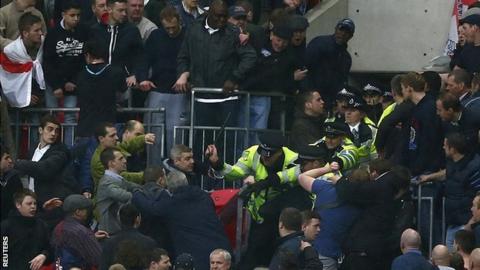 The violent scenes at Wembley and in Newcastle over the weekend have brought football hooliganism back into the spotlight and raised questions over the way the game is policed.
On Saturday, 14 people were arrested after Millwall fans fought among themselves during their 2-0 FA Cup semi-final defeat by Wigan. And the following day, four police officers were injured and 29 arrests were made as trouble broke out after the Tyne-Wear derby.
Andy Holt, the Association of Chief Police Officers (Acpo) lead on football policing, is the man charged with formulating the police response to the incidents.
Here, he talks to BBC Sport about the specific issues presented over the weekend and the challenges involved in policing the modern game.
POLICING AND STEWARDING
Police have been criticised for their delayed response as tensions among Millwall fans spilt over into violence on Saturday. As is commonly the case, the game was largely patrolled by stewards, who are not trained security guards, and were following protocol in waiting for the police once the incident had escalated into a public order offence.
"The fact that at Wembley you saw Millwall fans fighting among themselves, putting at risk young children is abhorrent," said Holt.
"Normally what we see is groups of 'risk supporters' confronting each other and many of our tactics are based around preventing them from getting together and engaging in violence or stopping them engaging in violence with stewards and police officers - but actually stopping them fighting among themselves is far less common and obviously far more difficult to deal with.
"As a general rule, we want to see more and more stewards at games and fewer and fewer police officers. But we will learn our lessons from these particular games and if we need to slightly reverse that trend I will consider it."
LATE KICK-OFFS
The decision to schedule the Millwall-Wigan semi-final at 17:15 BST has come under scrutiny for giving fans more time to become inebriated before the match and increasing the likelihood of trouble.
Are kick-off times for big matches dictated by television companies, and if so, is fan safety being sacrificed for commercial gain?
"I have to try to strike a balance between what clubs want in terms of their supporters getting to a fixture and the demands of television to show matches at a commercially viable time," said Holt. "It's always a compromise and every time we have a debate around kick-offs all those factors are taken into consideration.
"Very often clubs and television companies recognise the risk of a later kick-off and will pay more money for policing the fixture. In those circumstances, it allows us to put on more officers and more stewards, but that isn't necessarily a guarantee of less violence.
"By and large we manage to come to an acceptable compromise but it is not an exact science."
DRINK & DRUGS
The 14 arrests that followed Saturday's Wembley violence covered offences including affray, possession of an offensive weapon, assault on police and the possession of class A drugs.
According to the testimonies of Millwall fans reported in the Daily Mirror, groups of Lions fans were snorting cocaine on the Wembley concourses before the match and at half-time.
Holt says fans taking drugs is presenting police with a new challenge.
"There is certainly a link between substance misuse and violence in today's game, particularly when you start mixing cocaine and alcohol," he said. "People become very volatile, very hard to control and sometimes they are not rational.
"There are a whole range of initiatives to combat this, such as sniffer dogs to police the queues as they go into the ground. But it is not impossible for people to smuggle drugs into grounds, or to take them in public house toilets before they go in.
"These things happen and we've got to do all we can with both the licensees and the clubs to make it as difficult as possible to watch football under the influence of alcohol or drugs."
SENTENCES & BANNING ORDERS
Millwall and Newcastle have been quick to declare that any fan found to have been involved in the weekend skirmishes will be banned indefinitely. But under UK law, the maximum banning order for a football-related offence is 10 years.
"With the quality of CCTV, particularly at Wembley, I would be pretty confident that we would be able to capture images of the majority of those responsible for the disorder and identify them," said Holt.
"They will then seek to arrest those perpetrators, who will be put before the courts and we will be doing all we can to ensure the courts impose the maximum sentence allowed by law for such offences. Anyone who is engaged in disorder will also get a football banning order and that will be the end of them watching football for the foreseeable future."
THE NEXT STEP
Police are working closely with football authorities and the clubs to review the incidents in London and Newcastle. How quickly can we expect a response and can a club really change its culture?
"There is a hot debrief taking place," said Holt. "Northumbria police chief superintendent Steve Neill is a very professional and experienced officer who will be reviewing the lessons learned and putting things in place for the next game at St James' Park. Clearly some things will be longer term because you can't change the culture of fans overnight.
"I've been very pleased by the response from both clubs saying they are going to take action against their own fans if it's shown they've been involved in violence. Those are the things that are going to change it, not necessarily one-off initiatives by the police service.
"I was down at Cardiff on Friday on a football matter unrelated to the current disorder. Their safety officer was very proud of the fact that Cardiff City used to be a difficult club with a difficult reputation but it has now turned itself around completely.
"Where there is a will, clubs can do much more, together with their local forces, to try to eradicate this sort of violence from their support."