Everton look for more from Nigerian Victor Anichebe
Last updated on .From the section Football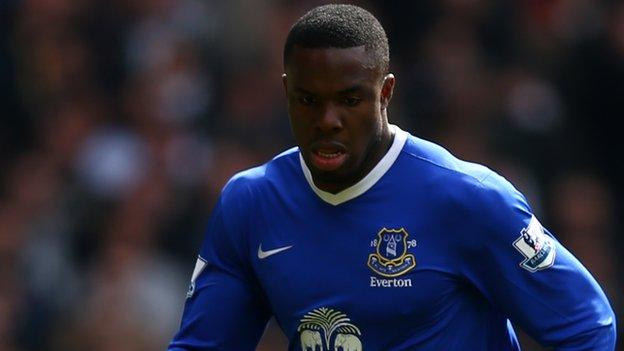 Nigeria striker Victor Anichebe could become "an outstanding player" if he continues to work hard and develop, says Everton boss David Moyes.
The 24-year-old has scored eight Premier League goals this season, including six in 13 league starts.
Moyes said: "I think he has a bit more to do but we have got signs of someone who could be an outstanding player.
"The boy has an awful lot going for him. I've said many times he just needs to have a bit more self-confidence."
Anichebe came up through the youth ranks at Everton and has gone on to make 124 appearances for the club, scoring 18 goals, since his debut in February, 2006.
He scored his side's second goal in the 2-0 win over QPR on Saturday and Moyes believes Anichebe is now starting to fulfil his promise.
"It has taken a while for him to show us that but how he has been playing is very good and he is playing as well as anyone," said Moyes.
"We just want him to keep playing the way he is doing; he is helping us at the moment and gives us an alternative.
"I think for Everton we need people who are getting in double figures (for goalscoring). We've really missed someone getting in the high teens with their goals.
"I hope he gets some more because it will help us until the end of the season."
Everton are in sixth place in the table, only three points off the Champions League places, and face third-placed Arsenal at Emirates Stadium on Tuesday.