Portsmouth: PST settlement deal with Portpin revealed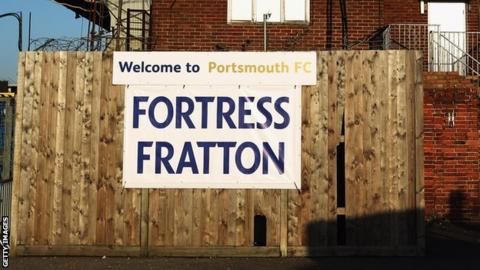 The Pompey Supporters' Trust have revealed full details of the settlement reached with former owners Portpin.
A deal was struck on Wednesday 10 April between Portpin and administrators BDO to release their charge on the club.
It meant the PST could take control of the club's Fratton Park stadium and complete their takeover.
The PST paid £3m for the 'property' (fixed charge on Fratton Park) and £450,000 for other assets (floating charge) plus two 'add-ons' to Portpin.
Those adds-ons were £125,000 to be paid to Portpin at the end of each of the 2016/17 and 2017/18 seasons as well as a £2m payment if Portsmouth reach the Premier League in the next 10 years.
The club exited administration on Friday after 14 months.
The PST are backed by several High Net Worth investors, including Iain McInnes, who is also the club's new chairman.
As well as the HNWs, ordinary fans have been pledging £1,000 each to help Pompey become the largest supporter owned club in the country.
Earlier this month Pompey were relegated for the second-successive season but their settlement means Portpin's charge against Fratton Park has been removed and they no longer have a hold or guarantees over Portsmouth Football Club.
And chairman of the PST Ashley Brown said the deal, which was settled out of court, heralded a new era for the club.
"This was a very sensible and prudent financial settlement which we are confident the business can afford," he said,
"The club can now look forward to a bright, stable and financially sustainable future. Under the Trust's ownership, the club will have more working capital than at any point in the last few years.
"We have received tremendous support from fans in the last few days and have received hundreds more pledges and conversions - all of which means more income for the football club. The opportunity for fans to buy shares is going to remain open for the foreseeable future.
"Once again, we'd like to offer our thanks to Pompey fans everywhere who have backed their football club to the hilt to create a true community club."